Recognizing AP Documents From PDFs
in Acumatica Cloud ERP
Starting in Acumatica ERP 2020 R2, Acumatica has added the ability to recognize Accounts Payable Documents from a PDF. These documents can be brought into the system in either three ways:
Option 1
The user can drag a PDF file into the Preview area of the Incoming Documents form in Acumatica, and then click Recognize on the form toolbar.
Initially, the uploaded document has the Pending Recognition status displayed in the Summary area of the form. If the document is successfully recognized, the system fills in the settings in the Summary area with the recognized values and changes the status of the document to Recognized and Accounts Payable Bill will be created.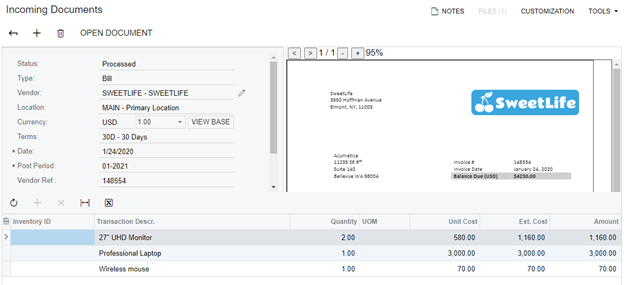 Option 2
The user can open the Acumatica add-in for Outlook for an email that contains a PDF attachment and click Create AP Document in the add-in.
Option 3
A system email account can be created on the Acumatica System Email Accounts form for the mailbox that receives emails with invoices, with incoming mail processing activated and the Submit to Incoming Documents check box selected on the Incoming Mail Processing tab. In this case, all incoming emails in the mailbox are to be processed and any PDF attachment that is found is automatically submitted for recognition.

Note: We recommend that a dedicated mailbox is used for storing emails with invoices that need to be automatically processed and recognized.