Acumatica ERP Inventory and Order Management: Correction of Sales Order (SO) Invoices
Acumatica has added some amazing features into their 2020 R1 release. This blog post is a great read for those who need to correct any Sales Order Invoices in Acumatica.
Previous versions of Acumatica Cloud ERP provided no ability to make changes to Sales Order (SO) invoices that had already been released. SO invoices also could not be cancelled. Acumatica ERP 2020 R1 introduces new actions that provide the ability to cancel and to correct existing SO invoices with the Open or Closed status.
Cancellation of Invoices
On the Invoices (SO303000) form, the Cancel Invoice action has been added, as shown in the following screenshot: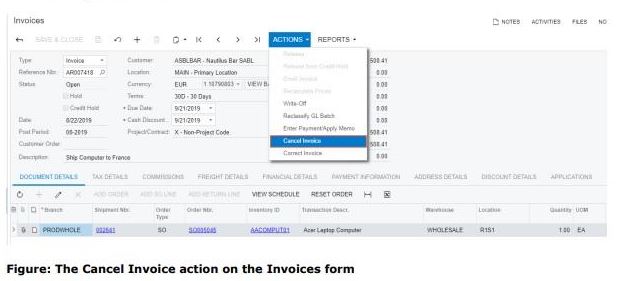 When a user clicks this action, the system creates an SO credit memo on the same form in the full amount of the invoice being canceled. In the created credit memo, the user can change the date, posting period, and description, all of which are copied from the original SO invoice.
Contact us if you would like the full list of new features and enhancements in Acumatica, including Matrix Inventory.