Business & Travel Expense Management
It's time to optimize your business travel and expense.
Concur Names Net at Work Platinum Partner of the Year –
Read More
Imagine effortless expense reporting.
Concur offers cloud-based and mobile services that make it simple to manage travel, invoices, and company spending, so businesses can focus on what matters most. Net at Work has partnered with Concur to bring its clients the best-in-class functionality Concur offers at the best price. Concur counts over 31,000 customers and 37 million users worldwide and has spent years bringing reporting and technology to suit your unique business needs – whether you specialize in manufacturing, media,healthcare, non-profit, education, or anything else, Concur can help.
Concur links with leading ERP software including
Sage 100 ERP, Sage 300 ERP, Sage 500 ERP, Sage ERP X3 and NetSuite.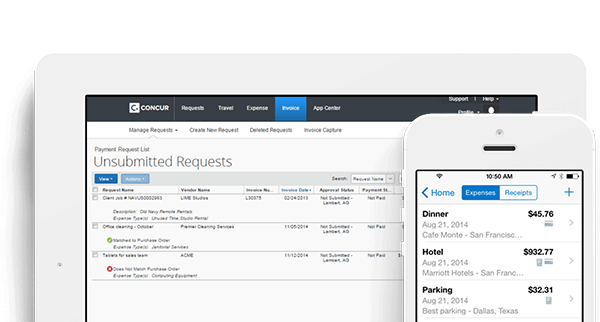 Concur Travel & Expense
Reduce costs
Reduce processing costs per expense report by as much as 83%, cut back on unnecessary paper, and diminish expense report delinquency and error. Companies of every size and industry that do not automate the T&E process are prospects.
Streamline and simplify
Reduce expense report processing time by 35%*. Reimburse employees up to 47%* faster, improving overall employee satisfaction.
Increase control and compliance
Decrease errors and fraud, and reduce out-of-policy expenses. Improve compliance to corporate T&E policies by as much as 43%*, ensuring your employees book with preferred vendors.
Leverage global functionality
Concur works beyond borders – supporting multiple languages and automatically calculating the currency exchange rate and value-added taxes (VAT) on international trips so your clients don't have to.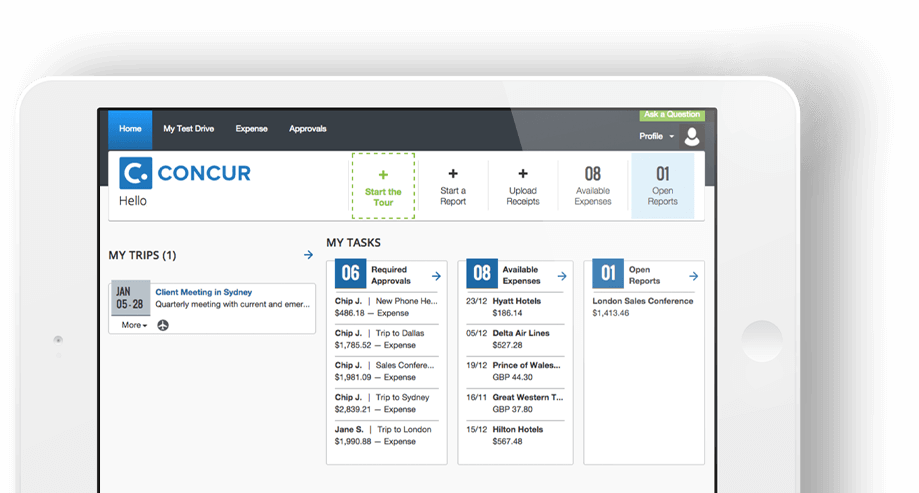 Concur AP/Invoice Automation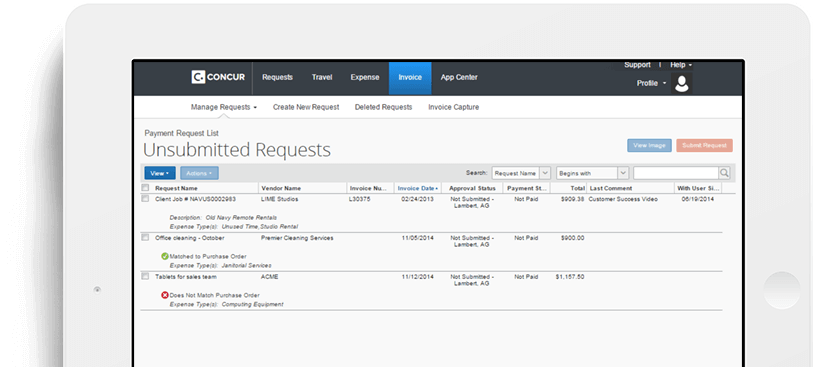 Full lifecycle invoice management
Allows you to: capture invoices, manage invoices, enforce policy, pay vendors and report and analyze all activities and transactions.
Invoice Capture Service
Eliminate the manually intensive tasks of receiving, scanning and verifying printed invoices. Invoice Capture gets invoices entered efficiently and enables faster approval and payment.
Automated Invoice Payments
Once approved, invoices automatically queue for ACH or check payment. This service substantially reduces processing costs. The time-intensive task of generating payments is removed.
Powerful Analytics
The pre-defined reports, dashboards, and key metrics allow you to analyze your invoice process and identify opportunities for negotiating better deals with your top vendors.
Robust Workflow
Seamlessly incorporate new suppliers while an invoice progresses through the approval cycle.

Recorded Webinar
Get an In-Depth Look at Concur Automated Travel and Expense Management

Concur ROI Factsheet
Learn how Concur's Expense Automation can save your company time and money.
Get in Touch
Contact a Concur expert, get support, or request a demo below.