How to Access the Sage X3 Online Help Center
The Sage X3 Online Help Center is available 24/7 to provide users with version-specific information to assist in the use of Sage X3. It is the same content used by Sage Support.
How do I access the Online Help Center?
If you are logged in to Sage X3, click on the question mark in the top right corner of the toolbar.

Next, click on Online Help Center. This will launch a new web page in a separate tab in your browser.
You can then access any documentation that is available on the page such as:
Home
What's new
Technical help
Product help
Quick start
How to
Tutorials
Knowledgebase, etc.
If you are not logged in to Sage X3, you can access the help center directly by visiting: https://online-help.sageerpx3.com.
Below is a description of the documentation you can expect to find.
---
---
Home
The Home tab contains listings of the newest how-to guides and tutorials. It also has a History section so you easily find the articles you were just reviewing and return to them. And there is a section for your Favorites so you can click and access the articles you identified as Favorites.

What's new
Here you will find release notes for your specific version describing new features and changes. There are also links to the Readme documents.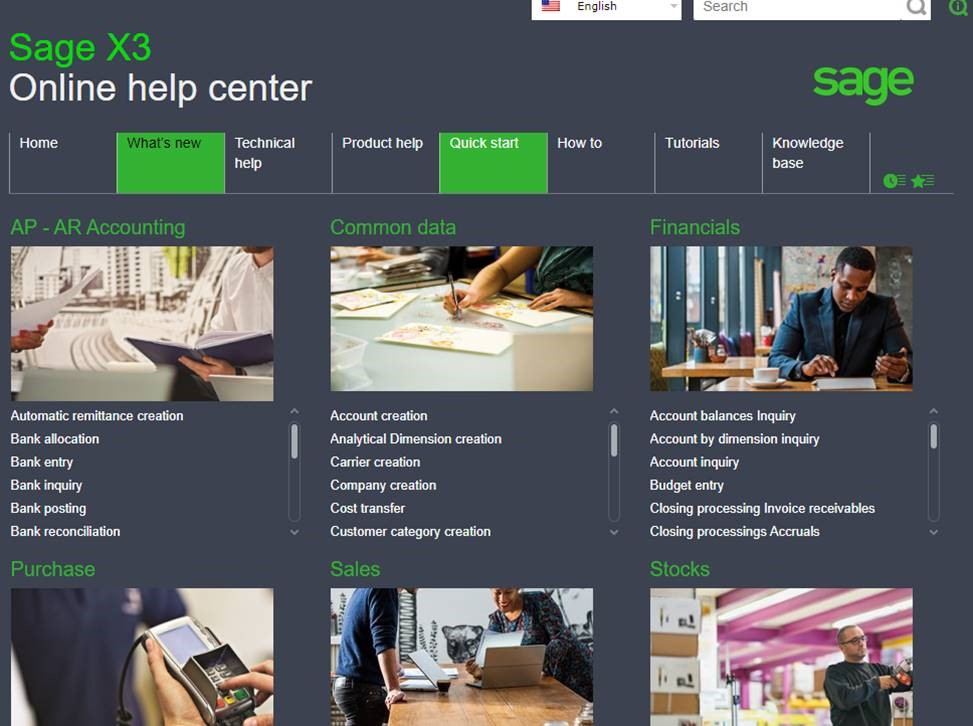 Technical help
Looking for the relationship between tables? Check out the Data module. It is a great help when you are creating reports.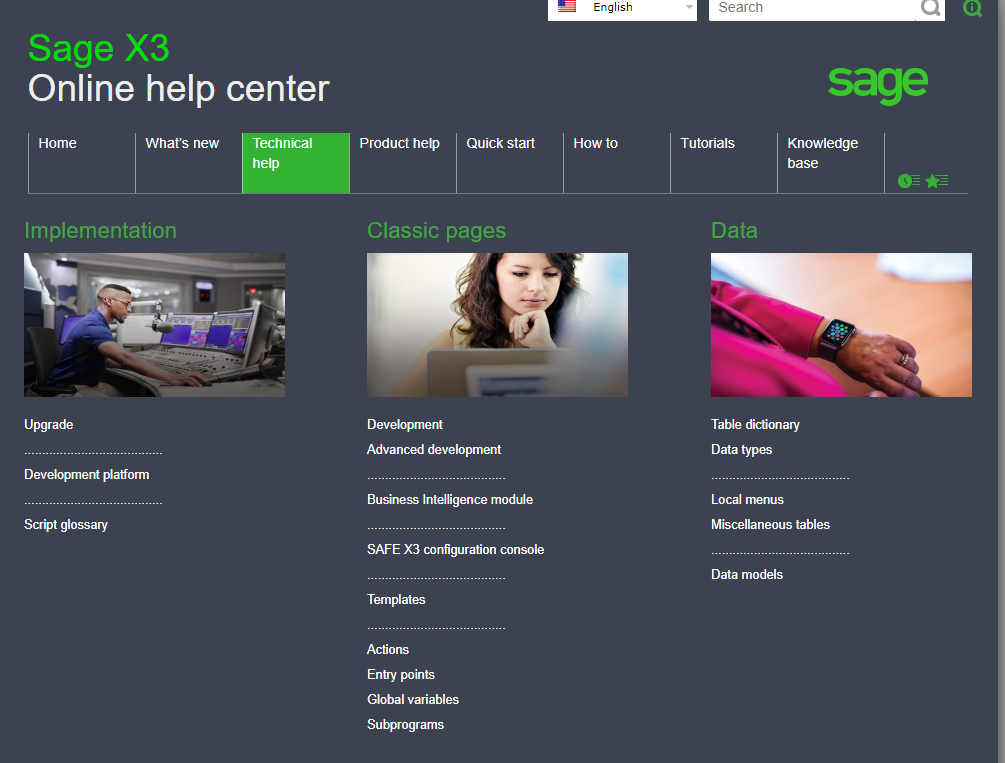 Product help
This is probably the most familiar section of the Online Help Center. The functional help explains the overall purpose of the function, what tables it uses and what the fields are. It also provides explanations for common errors.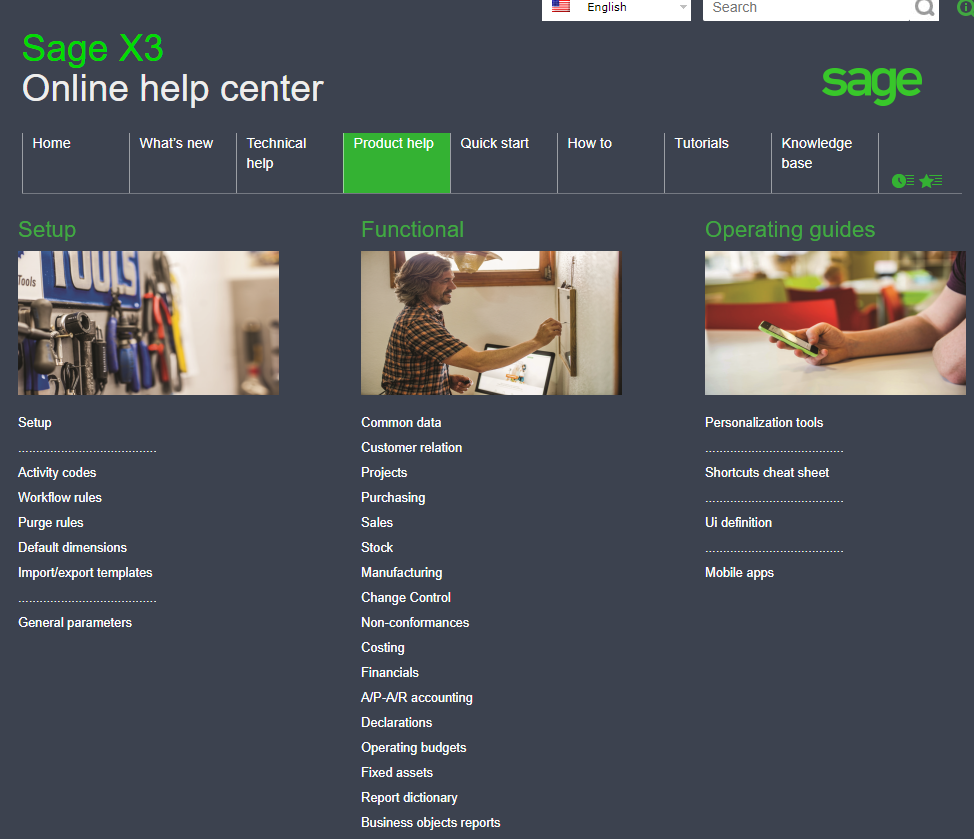 Quick start
Quick starts are short guides with print screens and numbered steps. Need to set up a Sales Rep? There is a one page guide. There are quick starts for running inquires. These are great reviews if you haven't used a task in a while or for examples if you are training someone new.
How to
Here you can find more in-depth guides for such topics as implementing Sage Sales tax, using Project Management, implementing Sage Payment Solutions or developing a new legislation. There is even a document on Stock Valuation. These are version specific and up-to-date. New ones are being added regularly. Use these to ensure you are using the latest and greatest information.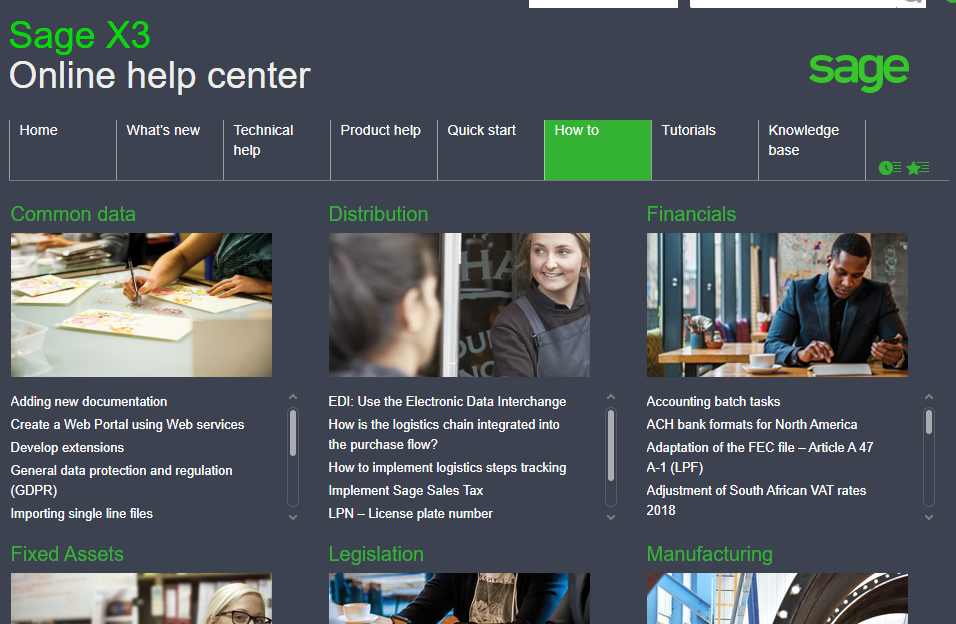 Tutorials
The tutorials section includes short videos on a range of topics such as PJM and Asset Inventory. New topics continue to be added. The new additions are listed on the Home tab.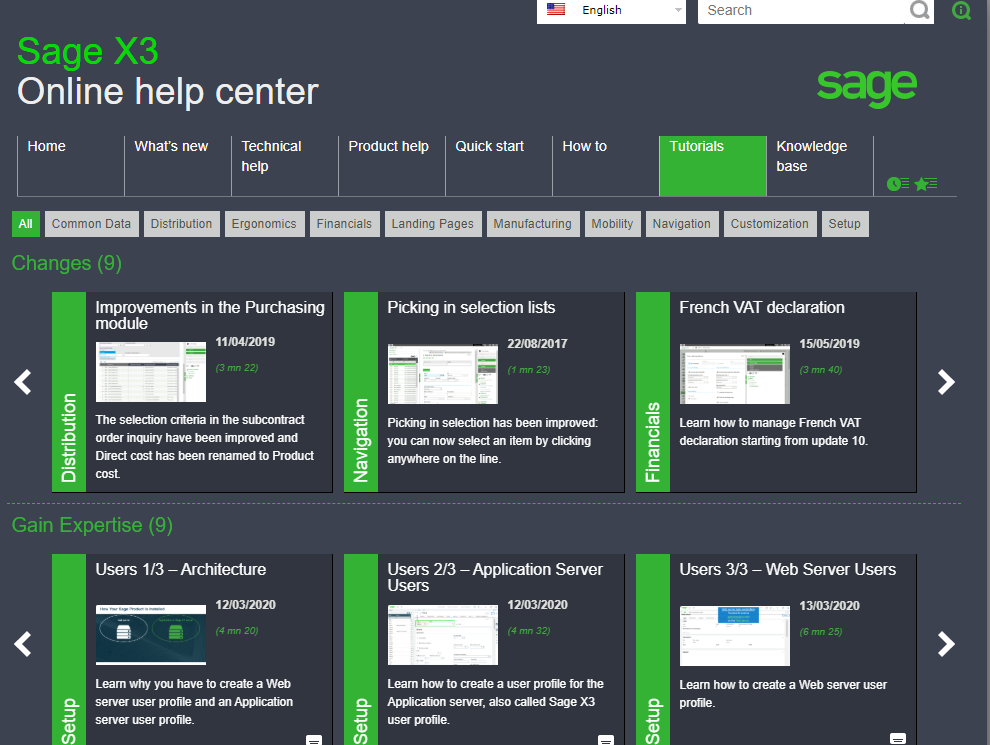 Knowledgebase
These are mainly procedural knowledgebase articles.
Hopefully this post will help you access all of the information available to you in the Sage X3 Online Help Center. Plus, visit our Sage X3 Insider Center for Resources like: Sage X3 Tips, Tricks, Videos on Features, Modules and 3rd Party Solutions.
Should you need more information regarding the help center or any other Sage X3 issue, please contact us.
Note: Content for this blog post was originally posted on Sage City Community by Pam Nightingale, March 31, 2019.