Employer Solutions / HRMS Newsletter – August 2016
Keeping You Up-To-Date With Information About Employer Solutions / HRMS
Total Compensation Statements Encourage Employee Engagement
By: Net at Work Team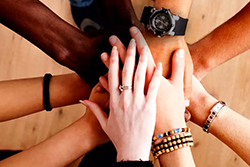 An informative total compensation statement promotes employee engagement. When employees are presented with all of the benefits – tangible and intangible – of employment with you they can better evaluate the true worth of their job. This leads to greater employee loyalty and lessens the possibility that they will consider leaving the organization – a costly and disruptive process. Engaged employees, on the other hand, enhance the organization's response to its customers. Employee satisfaction drives customer satisfaction.
Total Compensation Statements Give the Complete Picture
Total compensation statements give employees information on the complete pay package awarded to them on an annual basis, including both direct and indirect compensation. Direct compensation can be defined as "all compensation (base salary and/or incentive pay) that is paid directly to an employee." Indirect compensation can be defined as "compensation that is not paid directly to an employee and is calculated in addition to base salary and incentive pay (e.g., employer-paid portions of health/dental/vision insurance, retirement benefits, educational benefits, relocation expenses, employee paid time off)." The more detail that an employer can provide, the more beneficial the statement. Some common items to include in a total compensation statement are:
Salary/hourly rate
Medical benefits coverage—include amount paid by employee and employer
Flexible spending account information
Paid leave—include vacation/sick/PTO, holiday, personal, bereavement, military pay, jury duty, etc.
Disability insurance
Life insurance
Employee assistance program
Retirement benefits—include 401(k)/403(b), pension plans, etc.
Educational assistance programs
Relocation expenses
Creating the Total Compensation Statement in Sage HRMS
There are a number of tools in Sage HRMS that can assist in creating an accurate Total Compensation Statement including standard reports and Secure Query. Data in Sage HRMS includes employee and employer contributions to benefits, paid time off, training information (requires the Sage HRMS Train module) and pay history (requires the Sage HRMS Payroll module). Additional data can be tracked in custom tables, including payroll data imported from 3rd party payroll processors, additional benefits like uniforms, company vehicles or equipment. Although standard reports capture the many of these elements, for a complete picture the best tool is Crystal Reports.
Using Crystal Reports to Create the Total Compensation Statement
Crystal Reports for Sage HRMS provides a robust reporting platform for HRMS users. Features typically used in Total Compensation Statements include
Conditional lines (to personalize the statement based on the individual employee's benefits)
Parameter fields (to dynamically allow for running the report without having to reprogram for a different group of employees or effective dates)
Formulas (to capture complex calculations or control how data is displayed)
Graphs and Charts (to make the Total Compensation Statement more visually appealing).
In the example below, we have combined many of these elements:
Next Steps: Our Consultants Can Assist
If you would like help creating total compensation statements, or any customized reports, please contact the Employer Solutions practice at Net at Work to schedule time with one of our experienced Business Analyst\Consultants. For more information and to schedule an appointment to discuss your needs, contact us at 800-719-3307.