Employer Solutions / HRMS Newsletter – January 2018
Keeping You Up-To-Date With Information About Employer Solutions / HRMS
Employer Solutions Employee Spotlight
By: Net at Work Team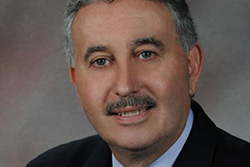 An Interview with John G. Guglielmo, Sales Team Leader, Net at Work Employer Solutions Practice
John has more than twenty-five years of experience in providing technology solutions to small and medium sized businesses gathered from his own firm and with Net at Work. John works out of the Rochester, New York office of Net at Work and will have been with Net at Work for 10 years this April.
He came to Net@work when his Sage Pro reseller business was acquired in 2008.  He worked in the new business team until finally settling with the Employer Solutions practice.  Here he manages and supports the other Account Managers as the Sales Team Leader.
Johns holds a Bachelor of Science in Electrical Engineering from the University of Buffalo and a Bachelor of Arts in Physics from SUNY Geneseo; with a background in Software Design and Development, Systems Integration, and Implementation.
John has wide experience in a wide variety of industries include Manufacturing, Distribution, Professional Services, Health Services, among others.  Over the years John has worked with a wide range of technologies and software products (HCM, HRMS / Payroll & Employer Solutions – Applicant Tracking, Time & Attendance, Talent Management, HR, Payroll, Finance / ERP, CRM, Manufacturing, MES, Inventory Management, EDI).
Coming from an engineering background, how do you think that effects your sales style?
"When I really think about it, I have always been focused on helping other people – personally and professionally.", John replied.  As a result, he naturally gravitated to a consultative sales approach – working with prospects and clients to understand their issues and then coming up with a way to solve their problems. John told me that he felt that his engineering background helps him to be comfortable exploring different options with a client rather than imposing a solution.  As John puts it, the engineer\software developer in him is looking to "identify the hitch" – the point of friction in a process that if reduced would make the process work more smoothly.  Physics led to engineering to the sales approach that is characterized by a methodical diagnosis of problems and solutions for our customers.
How have you seen the technology ecosystem change during your career?
John said that what has struck him is the dramatic shift related to building customizations.  In the early days, the software served merely as a framework to building something custom for the client. It made sense to create something for a customer that they would use but was invariably a 'one-off' for each client.  With the advent of full suites of functionality, the system could be seen as a framework for the client to solve problems without having to spend a great deal of time and effort reinventing the wheel.
John also mentioned the move from working in a specific geographical region to the ability to interact with clients and co-workers around the county and internationally.
What excites you most about the future of Human Capital Management (HCM) systems
John observed the growing expectation of levels of technology that should exist for every employee at every level. Users don't need to know what the database is or the language the program is written in.  The key becomes a convergence of applications to 'do what do I need this to do' versus making this all hang together technically.   Users are looking for an experience of 'it just works'.
What's next on your 'Bucket List'?
John is planning a family vacation visiting Yosemite National Park.  "It will be a good chance to get together and spend time with my family and enjoy the outdoors.", he said. "It will be awesome!"