Employer Solutions / HRMS Newsletter – May 2017
Keeping You Up-To-Date With Information About Employer Solutions / HRMS
Keep Track of Employees' Training, Licenses and Certifications
By: Net at Work Team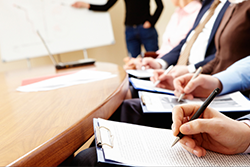 In any kind of organization, it is very important to keep track of trainings, licenses and certifications. This is an ongoing process which could be difficult to manage.
In many large organizations, it is a full-fledged task for which a devoted employee is required. In smaller organizations, it is one of many tasks an office manager, department manager or general manager must add to their to-do list. Trainings benefit the employees, as well as the organizations that employ a highly-trained workforce.
Here are typical scenarios for an organization:
The company is getting ready to bid on a big project.  The CFO comes into HR with a last-minute request:  How many employees do we have that are certified in hazardous material handling? He needs the information for the proposal and he needs it now.  How long will it take you to respond?
Employee licenses and certifications can be important for many reasons.  Equipment licenses like class 2 drivers, licensed superintendents for a given State all can have a direct bearing on a company's ability to undertake a project or employees to perform their job.  In many cases, the license or certification is a requirement for job bidding or government compliance. Who has training in first aid or CPR? Safety in the workplace is enhanced if employees are trained to deal with emergency situations.
Tracking employee licenses also has an economic impact if the company provides training or pays fees to maintain employee certifications.  Reporting becomes important not only to identify who currently has a particular license or certification, but who is due for renewal? And when?  Are all employee certifications going to be come due at the same time, necessitating a break in the work schedule so training or testing can take place?  Or will the expenses for renewals all come in the same period?
How an HRMS can help:
Recording certifications, licenses and training with renewal dates.
Holding scanned images of the documents, if required.
Associating specific certifications or licenses with specific job titles and reporting when employees are hired or transferred into the position.
Alerting employees, administrators and supervisors when renewals are approaching.
Reporting on number and status of certified employees.
Allowing correlation between licenses or certifications and work. In other words, did the employee utilize the license or certification in the course of his or her work, based on payroll records.  Was there justification for maintaining the certification from the employer perspective?
For more information on how you can track Licenses and Certifications in your HRMS, contact us at Netatwork.com
Informational Webinar: