Employer Solutions / HRMS Newsletter – November 2018
Keeping You Up-To-Date With Information About Employer Solutions / HRMS
Employer Solutions Employee Spotlight
By: Net at Work Team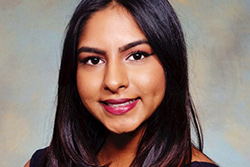 An Interview with Mohini Ramlakhan, HRMS Consultant
Mohini Ramlakhan joined the Employer Solutions team as a Business Analyst/Consultant this year after participating in the Net at Work First Year Associates Program.  Beginning last Fall, she was able to work with three business units of Net at Work – Employer Solutions, Sage 100 and Sage Enterprise Management before deciding to settle down in one practice.
Today she is working on a variety of projects in Employer Solutions and will soon be certified to implement Sage People. Mohini is a graduate of York College-CUNY, earning her bachelor's degree in information systems management.
What do you consider your formative work experience that led you to where you are today?
"While going to school, I worked two jobs – one of them as a Customer Service Passenger Agent for an airline at JFK International Airport. There, I met different faces and delivered excellent customer service to each customer. This job made me realize that I am a people person and wanted to work with customers rather than an isolated atmosphere. After I graduated college, I accepted a job right on campus as a teacher for an Android Application Development class for a summer camp, which welcomed students from the ages 8-14. This job taught me to first, learn the application, and then to teach students of a wide age range to use the application. Although I came across many challenges, it was such a rewarding feeling when my students understood my lessons and created their own apps."
What would readers be most surprised to learn about you?
Mohini is a recent mother and spends most of her time with her six month old son.  When not working for Net at Work or as a mom, Mohini has a side business as an event coordinator.  Starting with a bakery\catering business with her sister in High School, today she coordinates the baking, decoration and other aspects of all sorts of gatherings.
If you could have dinner with anyone living or dead, who would it be and what would you eat?
Mohini was quick to identify who – a business idol of hers, PepsiCo CEO and now Chairman, Indra Nooyi. Mohini first became aware in High School of Nooyi's work turning PepsiCo from purveyor of sugary soft drinks to a more healthy approach to food.  As a mother, wife, role model for women in business and influential policy maker at the second largest food and beverage business in the world, Mohini said she would love to spend some time with her.  As for the menu . . . . Indra gets to choose.