Employer Solutions / HRMS Newsletter – September 2019
Keeping You Up-To-Date With Information About Employer Solutions / HRMS
Aligning HR Strategy with Business Strategy – Part 2
By: Harold Ford, Employer Solutions Practice Director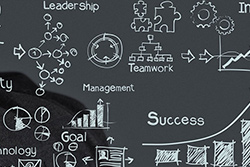 In our last newsletter, we explored ways HR can align their strategy with the business and outlined the following four steps to solidify that alignment:
Understand the mission, vision, goals, and objectives of the business
Integrate the Human Capital Management Plan to corporate goals
Tie metrics to business decisions
Correlate performance of human capital to business performance
Let's review the last two steps in this critical process.
Step 3 – Tie Metrics to Business Decisions
It is important to build HR metrics, or People Analytics, in order to provide insights on HR goals (which align with objectives of the company). Measurements should be built around value, not activity. For example, insights on retention by manager, turnover by wage rates or top producers, and bench strength in key skill areas measure value that shapes corporate strategies for the future.
It is also important to measure the right things. Sometimes this means having less but layering measurements. For example, if a key performance indicator is measuring the effectiveness of training, analyzing layered metrics such as improved work quality or increased customer loyalty can support training metrics. The overall goal is to get answers from metrics in order to answer important workforce questions and drive operational decision making.
Step 4 – Correlate Human Capital Performance to Business Performance
Metrics and analytics are important, but HR must be able to identify trends and relationships in the data that can lead to action and influence decision makers. By measuring the right things, we turn information into insights and plans that drive profitable business actions. This can lead to new policies, programs, and processes that positively alter the direction of the company.
Many times, this means combining HR data with data from other areas of the business. For example, if a key metric is to analyze the return on investment of human capital, it will be important to not only understand the total cost of the workforce, but also the total operating revenue and expenses of the corporation. Tapping into multiple data streams (Finance, Customer, Operations) allows HR to integrate metrics with the business and look for correlations that drive business strategy.
Finally, advanced people analytics using forecasting, regression analysis, and predictive modeling allow organizations to determine what is likely to happen in the future. Best in class organizations can use advanced analytics to determine which top talent is a likely flight risk, for example.
HR alignment allows companies to be more successful. Ensuring that HR knows the vision, mission, and goals of their organization and can also tie people analytics to those goals is critical for both HR and organizational success.