Employer Solutions Newsletter – Q3 2019
Keeping You Up-To-Date With Information About Employer Solutions / HRMS
Aligning HR Strategy with Business Strategy – Part 1
By: Harold Ford, Employer Solutions Practice Director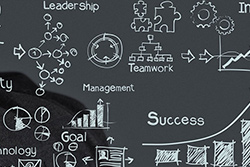 At Net at Work, we speak to Human Resources teams every day to unleash their business potential using the transformative nature of technology. In today's complex global environment, which includes a diverse multi-generational workforce, disengaged employees, and a large domestic skills shortage, it is more important than ever for HR to align its strategies to meet the demands of the organization. Here are a few statistics to enforce this point:
60% of future jobs require training that only 20% of the current U.S. workforce possesses (Source: US Population Reference Bureau)
31% of workers are not satisfied with their current jobs, and 65% will either actively or passively look for new work in the next year (Source: Deloitte's Talent Edge 2020 Survey)
Employee engagement in the U.S. is at 34%, an all-time high (Source: Gallup Engagement Survey)
Executives grapple with these statistics every day and strive to implement effective workforce strategies to maintain a competitive edge. For HR, this means aligning strategies with business objectives to drive business performance and maintain competitive edge.
Over the course of the next few Net at Work newsletters, we will focus on ways HR can align their strategy with the business. We will cover the following four steps to establishing this approach:
Understand the mission, vision, goals, and objectives of the business
Integrate the Human Capital Management Plan to corporate goals
Tie metrics to business decisions
Correlate performance of human capital to business performance
Step 1 – Understand the Mission, Vision, Goals, and Objectives of the Business
It is important for HR to understand and internalize an organization's mission, vision, goals, and objectives. What are the values of the organization? Why does the business exist? What does the company aspire to be? What is important to the company leaders? Knowing the answers to these questions can assist HR teams build HR strategies that are valuable to the organization.
Understanding the company mission and vision also allows HR to articulate them to employees so they can achieve great things. Connecting employees to the company's vision and mission through HR objectives allows employees to see a direct correlation between their efforts and organizational success. The more employees align with the mission and vision, the better the chances they contribute at a higher level, have increased engagement, have increased retention.
Step 2 – Integrate HR Plan with Corporate Goals
Intangible assets, including human capital's productivity, performance, and experience, are important assets for organizational success. Often, employees are referred to as a company's most important asset. Therefore, it is important that HR align people to corporate strategy.
For example, perhaps a corporate objective is to increase productivity. To align, HR can build goals around increased engagement, faster onboarding, or prioritizing learning and development initiatives. If a corporate objective is to reduce cost, HR can focus on increased retention of high performers, use of contingent workforce, or automating repetitive processes. Executives understand that investing in talent can pay big dividends, and by aligning HR to corporate initiatives, HR becomes a strategic player in the business to ensure its success.
In our next newsletter, we will outline why people analytics and the correlation of those metrics to business objectives are important steps in this process.