Employer Solutions Newsletter – March 2019
Keeping You Up-To-Date With Information About Employer Solutions / HRMS
Employer Solutions Customer Spotlight: An Interview with Sara Andrews, Vice President Administration, Noble Systems
By: Net at Work Team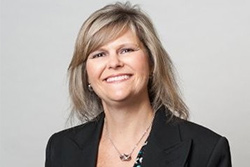 Net at Work Client Noble Systems Leads the Market in Gamification Technology
Noble Systems Corporation is a global leader in customer contact technology, offering the industry's most comprehensive and cost-effective technology platforms for Contact Center, Workforce Engagement, and Analytics.  Since 1989, Noble Systems has specialized in providing companies with flexible contact center solutions tailored to meet each client's unique business needs, whether they are large enterprise, mid-size, or small organizations. In 2016, after seeing gamification software in action, CEO James Noble, Jr. decided to add this important tool to the portfolio of products and services offered by Noble Systems.
Gamification – using the techniques of games in the workplace – has a long history, according to Sara Andrews, Vice President Administration at Noble Systems.  Sales contests and productivity awards are nothing new.  However, using technology and data, gamification software can analyze and report results in real time. Gamification software can create competitions, set goals, recognize leaders and build collaboration.
Gaming is especially popular among Millennials and Centennials (Gen-Z).  As those generations become the majority of employees in the next few years, responding to their needs will be critical for successful organizations, according to Sara.  Applying the recognition of a leaderboard, head-to-head competitions and badges fits in with their desire for recognition and builds employee engagement.  Engaged employees are more productive and less likely to leave, reducing turnover and training costs, according to Sara.
Noble Systems uses gamification in their own business beyond their customer support teams.  Sara cited a recent example.  Noble Systems uses gamification to incentivize employees to post open positions on social media and comment on them.  Employee referrals are the best source of new employees, according to Sara.  The costs in terms of recognition and awards is more than made up for by the savings in reduced training and lost productivity when positions remain open.
Noble Systems has used Sage HRMS for over six years to manage their global workforce.  Noble Systems has customized the experience for international employees based on customary terms and policies, for example, Paid Time Off.  Employee Self Service allows employees to review and request time off, enroll in benefits and see other information about themselves in the system.  Payroll is processed in Sage HRMS for US companies, allowing employees to pick up their pay stubs online.  Behind the scenes, automated alerting and reports keep HR and Payroll up-to-date.  According to Sara, Noble Systems sees Sage HRMS as the best system for the price to meet their needs.
For more information on Noble Systems' Gamification technology click here.  For more information how Net at Work can help you manage your workforce, click here.