Fixed Assets Unleashed – Q1 2021
Keeping You Up-To-Date With Information About Fixed Assets
Cloud Hosting for Sage Fixed Assets
By: Net at Work Team
At Net at Work we work hard to provide solutions as Problem Solvers. One common theme these days is for businesses needing remote users to have ease of access to applications on-premise. Nothing was more relevant than Cloud access in 2020 as the COVID-19 pandemic caused shuffling staff from on-premise access to VPN or RDP.
The Sage Fixed Assets (FAS) family of products is not offered in a true SAAS environment. Cloud at Work provides a wonderful opportunity for Fixed Assets users to transit easily and economically. Cloud at Work can also  include updates of all patches and fixes so you can be assured that your Sage FAS is always up-to-date.
With Cloud at Work, we host your entire production environment in a stable and secure solution with 24x7x365 monitoring and support. With 99.99% availability and hourly backup snapshots – along with disaster recovery, you can be assured that even in the event of a disaster, your data will be safe and your organization will be running smoothly.
Watch Recorded Webinar:
Sage Fixed Assets and the Power of the Cloud
Cloud at Work Solutions
Cloud at Work offers two top of the line cloud product offerings. Our Virtual Private Cloud is a 100% Virtual Private environment for organizations who place extreme value on redundancy, security, and availability. Our Hybrid Secure offering is specially designed for smaller Sage environments and utilizes SaaS like architecture to deploy semi-dedicated resources. Both offerings are 100% SLA backed solutions that provide the most economical way to securely host your Sage Fixed Assets software.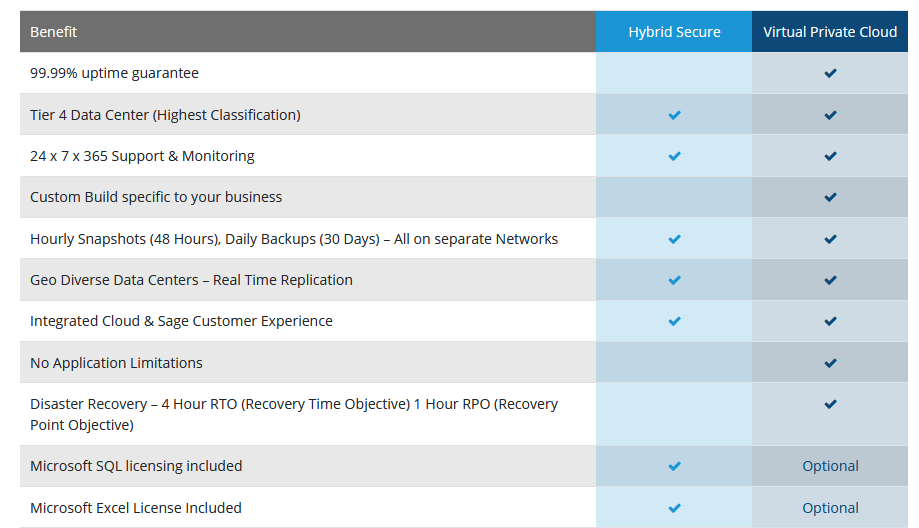 Contact us for more information regarding Hosting Fixed Assets in the Cloud:
spedone@netatwork.com  | 727-897-8532