Sage 100 Newsletter – 1st Quarter 2018
Keeping You Up-To-Date With Information About Sage 100
Sage 100 Version 2018 Debut – What's New and Improved
By: Cindy Whitlock, Senior Business Analyst/Consultant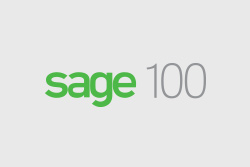 Now more than ever these days, we look forward to seeing what new and exciting innovative products come available in both the technology and business worlds. Sage Software has delivered once again, providing us with their newest release, Sage 100 version 2018. Available on all platforms- Standard, Advanced, and Premium, version 2018 doesn't disappoint! Take a look below at some of the standout additions users will be able to take advantage of.
Spell Checking
An in-line spell checker has been added. Misspelled words are underlined, and you can right-click them to open a menu with multiple options. The spell check feature has been added in the following locations:
Memos
Messages that print on forms, such as invoices, statements, and checks
Paperless Office Electronic Delivery windows
Comments
Notes in Customer Contact Maintenance and Vendor Contact Maintenance
E-mail Notification Maintenance (accessed from eBusiness Manager)
Test E-Mail and Test Fax subject fields (accessed from Company Maintenance)
Broadcast Message (accessed from Master Console)
When adding a multi-line user-defined field (UDF) to a screen, you can select whether to enable spell check.
Watch Recorded Webinar:
Topic:
What's New in Sage 100 v2018
Watch Now
Inventory Management
Warehouse Status Field in Warehouse Code Maintenance
A Status field has been added to Warehouse Code Maintenance. The three status options are Active, Inactive, and Restricted. The Inactive status is intended for warehouses that are no longer in use. If a warehouse status is Inactive, you cannot select the warehouse in any data entry tasks.
Job Cost Module
The Job Cost module has been rearchitected to improve performance and usability.
These changes have been incorporated to make it easier to access data and complete tasks.
Data entry grids are used to improve efficiency.
Selection grids are available on most report task windows and elsewhere.
Calculator buttons have been added to dollar amount fields.
Calendar buttons have been added to date fields.
Hyperlinks to related tasks have been added where applicable.
Batch Entry
Batch entry can be used in the following tasks:
Job Posting Entry
Job Billing Entry
Field Report Entry
History
On the History tab in Job Cost Options, you can select whether to retain history and set the number of years to retain history. The minimum is two years.
Sage 100 Payroll
The Payroll module has been modernized to improve performance and provide a better user experience. Also, the module is now available for Sage 100 Premium in addition to Sage 100 Standard and Advanced.
Missing Employee Listing
A Missing Employee Listing has been added to the task list available in the Pre-Migration utility. This listing provides a list of employees for whom records exist in one or more Payroll history files but who have no record in Employee Maintenance.
Batch Processing
You can now enable batch entry for payroll processing. The batch feature allows you to have multiple payroll runs in progress at the same time. Therefore, you can simultaneously process payroll for groups of employees who are assigned to different pay cycles.
Each batch has its own pay cycle. Therefore, you can simultaneously process payroll runs with different check and pay period start and end dates by creating a separate batch for each run.
An open batch can be accessed by any employee, provided that it's not set as a private batch. You can access another user's private batch only with the appropriate security setup.
Payroll History
Payroll history is now saved for a minimum of four years.
Encrypted Data
Personally identifiable information (PII) is now encrypted. PII includes names, phone numbers, and email addresses.
Social Security Numbers, bank account numbers, and bank routing numbers are considered highly sensitive, so extra security precautions are in place to protect that information. The ability to view and edit highly sensitive PII is based on a security event, "Allow Viewing, Printing and Editing of Highly Sensitive Personally Identifiable Information."
If a user doesn't have rights to view highly sensitive PII, it will be masked on reports and in task windows.
To review all changes and details regarding the Payroll module, see the Payroll What's New guide available here:  https://cdn.na.sage.com/docs/en/customer/100erp/2018n/open/payroll_upgrade.pdf
Whether you are a current Sage 100 user or are considering adding Sage 100 to your business practice, the above new features add instant value to the workplace. To see a full listing of new features for the new 2018 version, existing Sage users can remote into the Sage Customer Portal via https://customers.sagenorthamerica.com/irj/portal/anonymous/login.
Future clients can visit www.netatwork.com to be put in contact with an Account Manager to obtain a listing of product features.