Sage 100 Newsletter – 2nd Quarter 2018
Keeping You Up-To-Date With Information About Sage 100
Sage 100 Version 2018 Product Update 2 – A First Look
By: Net at Work Team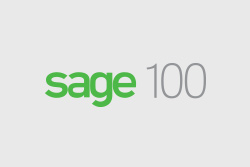 Sage Software has impressed us yet again with the second product update for Sage 100 Version 2018. Program fixes and enhancements have been made in various modules, allowing for improved efficiency and overall a better user experience. One big change that we've seen is the introduction of Sage Contact for Office 365.
Sage Contact for Office 365
What is Sage Contact? When you integrate Office 365 with Sage 100, you have the ability to view all of your customer information when creating or receiving emails in Outlook 365. How does it work? By simply opening an email and then clicking the button to launch the Sage Contact add-in, you can instantly view all the details for that specific customer, including name, address, phone, email, credit information, recent invoices and payments, and even customer memos. Pretty neat, right?
So what changes have been made to the Sage 100 modules? Rather than listing all of them, here's a little peek:
Accounts Payable Module
Enhanced invoice history
Accounts Payable Adjusted Invoice no longer paid twice
Accounts Receivable Module
No longer errors in:

Previewing or printing Accounts Receivable Aged Invoice Report
Entering cash receipts for Cash customers
CRM Module
Sage 100 Rebuild CRM no longer cuts off company names that have over 30 characters
Memo button is now visible when accessing Customer Maintenance from Sage CRM
Job Cost Module
Time Track

Time Track is a brand new time entry feature that now comes with the TimeCard module
It replaces numerous TimeCard tasks with ones that are much more efficient and user-friendly

No longer errors in:

Job Billing Selection or Job Billing Data Entry
Selecting Save As for Job Transaction Detail History Reports or Job Transaction Detail Reports
Library Master Module
Enhanced Workstation Synchronization
Dates from secondary tables are now sorted without error in Custom Lookups
Auto-Complete is more efficient and runs at an increased speed when working with large datasets on SQL
Sales Order Module
New Print button is added to the Sales Order and Quote History Inquiry window, allowing you to effortlessly print a specific order or quote
There is now an option to exclude sales orders that are still in the process of being invoiced when printing certain reports
Want to see the full listing of changes and enhancements for the second product update? Sage Users can check out the detailed release notes here.