Sage 100 Newsletter – 2nd Quarter 2018
Keeping You Up-To-Date With Information About Sage 100
Top Business IT Trends 2018 – Technology Trends in Business
By: Net at Work Team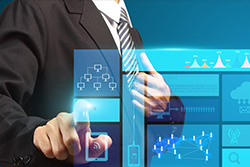 In spite of market uncertainties, IT spending remains a sustained investment for future focused business influencers and decision makers across US and Canada.
In a recent webinar, we discussed why "Digital Transformation" is more than a buzz phrase circulating in hallways of companies today. The survey findings of IT marketing firm OneAffiniti, accords with this. In a recent report, the firm reveals how the move towards digitization is impacting the spending priorities of organizations of all sizes.
The maxim that "every company is now a technology company" is a simple truth, as no company today can create, deliver or market its product efficiently without the use of technology. Customer demands for improved experiences and products are driving the move from traditional business models to digitization and innovation.
Businesses are shifting toward automation, rapid adoption of cloud-based services, and artificial intelligence to simplify business processes.
At the center of all this trend is IT. So, it comes as no surprise that IT investment remains a priority for companies of all types and sizes. In fact, the world's leading research firm Gartner, predicts that the main drivers of IT spend will be digital business, blockchain, Internet of Things (IoT), and progression from big data to algorithms to machine learning to artificial intelligence (AI).
2018 Business IT Trends Annual Report
Update on IT budgets and tech spending
The OneAffiniti survey found remarkable consistency of spending priorities between hardware, software and cloud across organizations at different budget ranges. The report notes in which hardware, software and cloud categories IT buyers are investing.
For more IT trends and information on where companies like yours are planning to invest their technology budgets, download the full report here.