Sage 100 Newsletter – 3rd Quarter 2018
Keeping You Up-To-Date With Information About Sage 100
Featured Consultant: Christianna (Chris) Dorsey Sage 100 Business Analyst / Consultant
By: Net at Work Team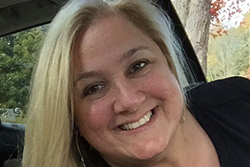 Chris has been working with Sage 100 (formerly MAS 90/200) for just over 26 years.  Her skills include technical support, implementation, report / form writing, as well as training.  She is a Sage 100 Certified Trainer, and is certified in Sage 100 Core, Distribution, Manufacturing and the Job Cost modules.
Out of high school Chris worked for a bookkeeping firm while taking accounting classes at a local college.  From there she joined a technology firm and became an Accounting Software Specialist.  She began working with MAS 90/200 V1.3 in June 1992.  Over the years she has also worked with RealWorld, Sage 50 (formerly Peachtree), and Sage 300 (formerly ACCPAC), always favoring MAS 90/200.  In 2004 she went out on her own and continued to support her MAS 90/200 client base.  She has developed long term relationships with many of her clients, 15+ years in some cases.  Chris joined Net at Work in June 2014.
She enjoys life with her family in Dover, New Hampshire.  Her two children and granddaughter keep her busy with cheer-leading, softball and babysitting.  She loves to cook, in the summer enjoys the outdoors camping, and in the winter snowmobiling in beautiful northern NH.