Sage 100 Newsletter – Year-End 2017
Keeping You Up-To-Date With Information About Sage 100
Business Process Analysis and System Review
By: Net at Work Team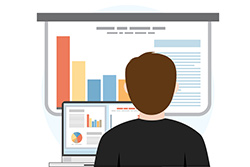 What is Business Process Analysis (BPA)? Workflow analysis or Business Process Analysis refers to the process by which one takes a closer look at your company and determines:
Your Current Workflow
Inefficiencies
Your Companies Strengths & Weaknesses
It is important to conduct a workflow analysis on a regular basis to keep your business on the right path; different departments within a company will have different workflows.  Neglecting to do a workflow analysis can result in problems that become chronic and are difficult to resolve.
A Business Process Analysis will result in enhanced productivity as well as provide gaps and provide insight to problems within your organization.  The ultimate goal of a business anlysis if to find way to streamline and / or automate processes within your organization.
Net at Work performs both Business Process Analysis which will:
Review your current workflow
Review your reporting requirements
Review your current applications
Provide gaps within your organization
Provide recommendations for your organization
Net at Work can also perform a System Review of your current Sage 100 installation and make recommendations based on the configuration.  Net at Work can determine what features are being utilized and not being utilized in addition to recommendations regarding history retainage and utilities to "cleanup" data.
For more information, please contact your account manager or Lisa Margolies, (646) 293-1771 or lmargolies@netatwork.com.