Sage 300 Newsletter – April 2018
Keeping You Up-To-Date With Information About Sage 300
Make Improvements to the Sage 300 General Ledger (GL) Transaction Listing
By: Susi Gaus, Sage 300 Senior Consultant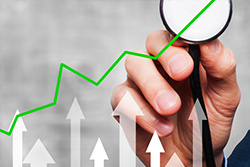 Are you trying to balance your General Ledger to your Account Receivable or Payable? Ever wish the GL transaction listing would show document type, document number and purchase number for an A/P invoice? There is a way to do that for future transactions.
Every sub-module in Sage 300 has a program icon called "GL Integration" in the setup area of each module.



This program not only controls and maintains posted transactions to the General Ledger it also defines the source codes, shows the last posting sequences, when and how transactions are posted and lets you control what information is posted to the GL Detail Comment, G/L Description and G/L Reference is listed in the "Transaction" tab as long as you have "Do Not Consolidate" selected in the dropdown for the Consolidated G/L Batches.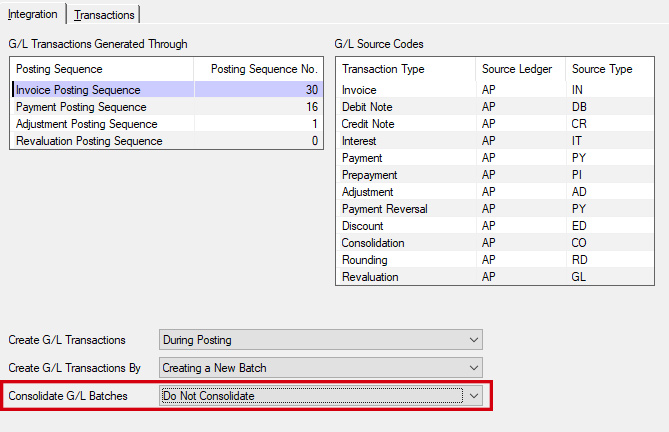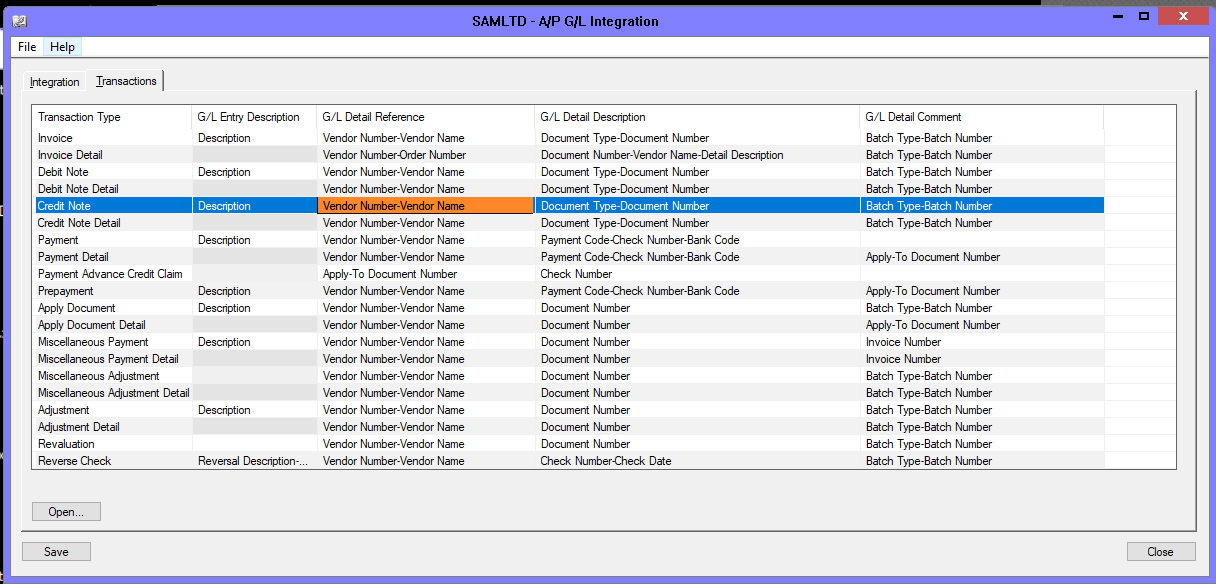 Let's look at an accounts payable invoice to illustrate how this transaction is posted to the G/L Transactions – "Batch List" and then printed on the G/L Reports – "Transaction Listing" report.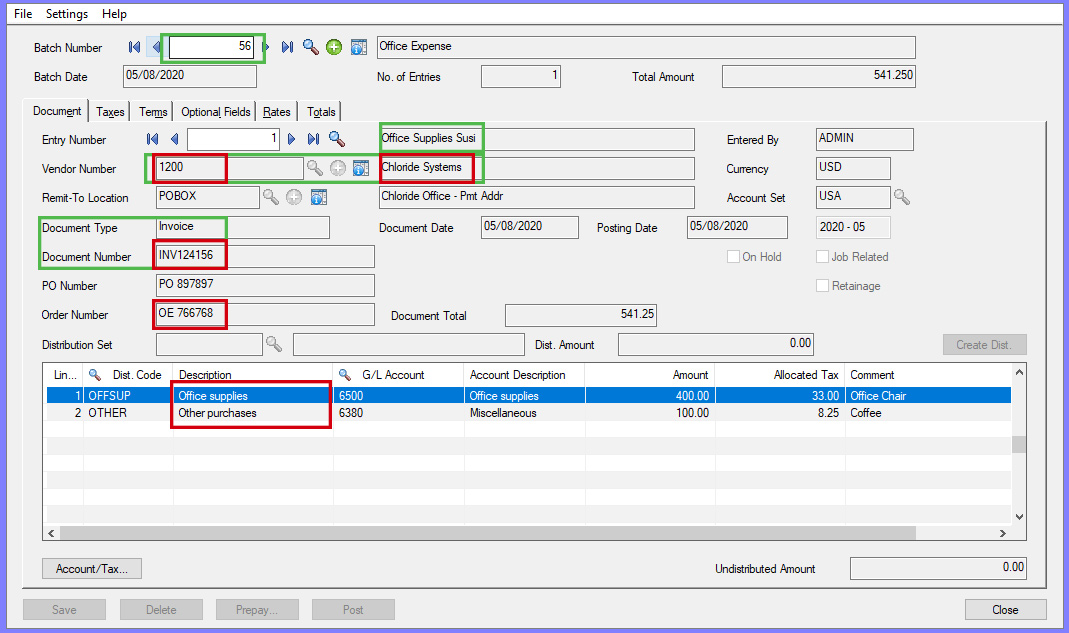 Invoice:
G/L Entry Description     Description: Office Supplies Susi
G/L Detail Reference      Vendor Number – Vendor Name: 1200-Cloride Systems
G/L Detail Description    Document Type – Document Number: Invoice-INV124156
G/L Detail Comment       Batch Type/Batch Number : IN-56
Invoice Detail:
G/L Detail Reference      Vendor Number – Order Number: 1200-OE 766768
G/L Detail Description    Document Number–Vendor Name – Detail Description: INV124156–Chloride Systems-Office Supplies/Office Purchases
G/L Detail Comment       Batch Type – Batch Number: IN-56
In the "A/P G/L Integration","Transaction" tab those fields and values are defined.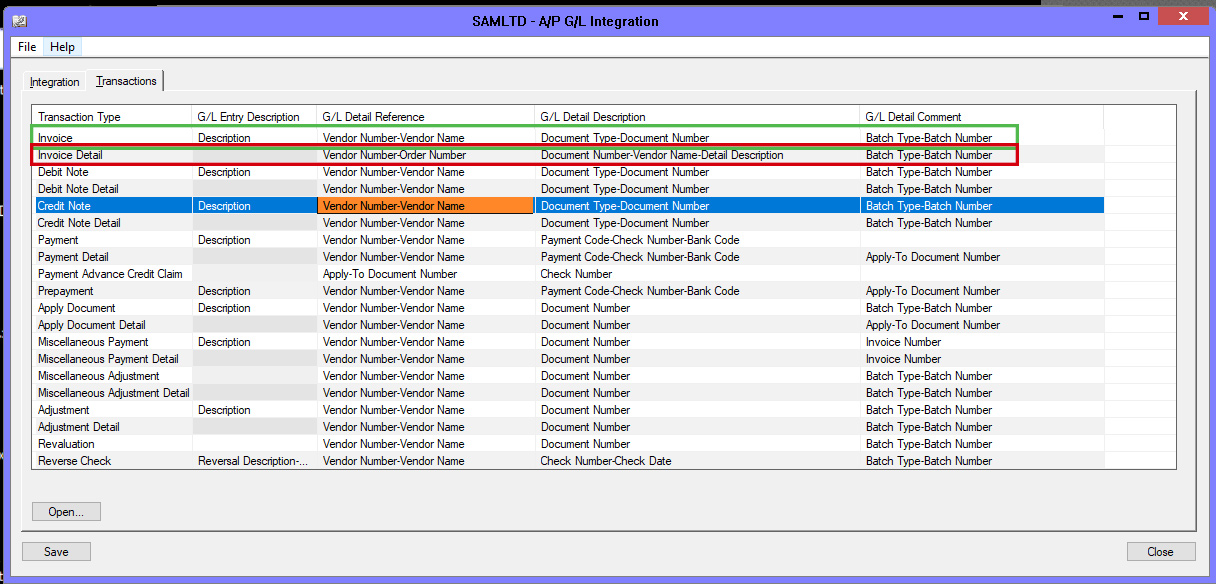 In this example, I like to add the purchase order information of the A/P invoice on the G/L transaction listing report. Go to "A/P Setup", open "G/L Integration", click on "Transaction" tab and highlight "Invoice". Click on the "Open" button.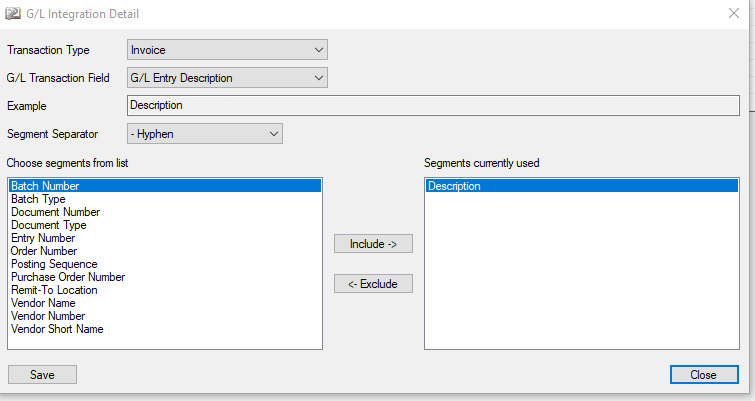 Change the dropdown G/L Transaction Field to "G/L Detail Description", highlight "Purchase Order Number" , click  the button "Include" and then "Save"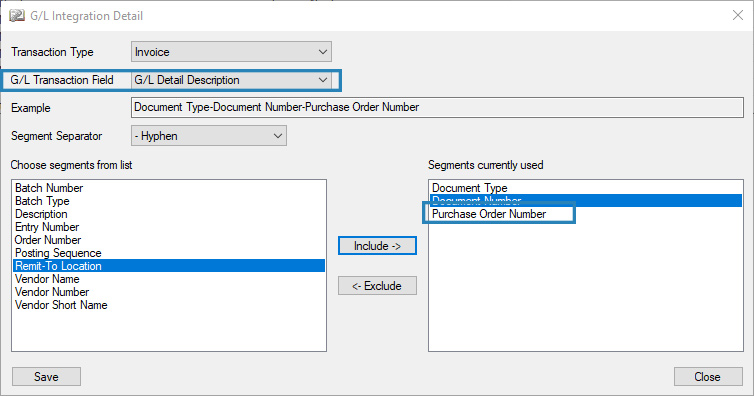 In order to save this setting everyone has to be out of Accounts Payable and make sure you have a backup.
Next time you enter an A/P invoice you will see not only the document type and document number in the G/L Detail Description, but also the purchase order number.