Sage 300 Newsletter – Q3 2019
Keeping You Up-To-Date With Information About Sage 300
Complimentary Sage 300 User Group Meetings – Join Us This Fall!
By: Net at Work Team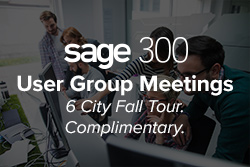 6 City tour: Missouri. Wisconsin. Illinois. Washington. Ontario. New York.
Each day's agenda includes great content covering a range of topics including the all new Sage 300 v2020, and networking with fellow Sage 300 users and the Net at Work team.
Visit here for a look at the dates this September/October, a detailed agenda, and all the information you need. We look forward to greeting you! Learn More