Sage 300 Newsletter – February 2016
Keeping You Up-To-Date With Information About Sage 300
UI Profile Maintenance in Sage 300 – Why this can save you time and trouble!
By: Larry Danelon, Business Analyst
Did you know there is a way to hide certain fields and buttons in Sage 300? This is done by creating a "UI Profile", (found under Common Services) then modifying the screen requiring the change, then adding the UI Profile to a User.
This can be especially helpful when you want to take the standard Sage 300 security features one more level. For example, perhaps you'd like to hide the "Delete" button on the batch list screen to prevent accidental deletion of the entire batch when you really only meant to delete a single entry. This happened recently when a client spent over an hour inputting AP invoices in an AP Invoice batch. After reviewing the Batch with multiple invoices, on one invoice, she input one line incorrectly and wanted to delete it. She clicked the "Delete" button on the page instead of the keyboard, which deleted the entire batch! Oops!
Below shows the A/P Invoice Batch page with the Delete Button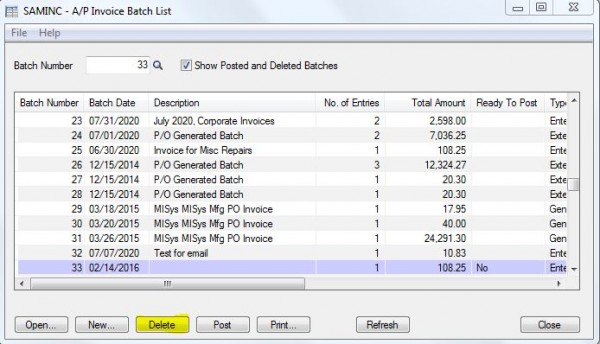 After creating the UI Profile, setting the parameter to hide the Delete button and assigning to that user's login, here is what that screen now looks like when she logs in.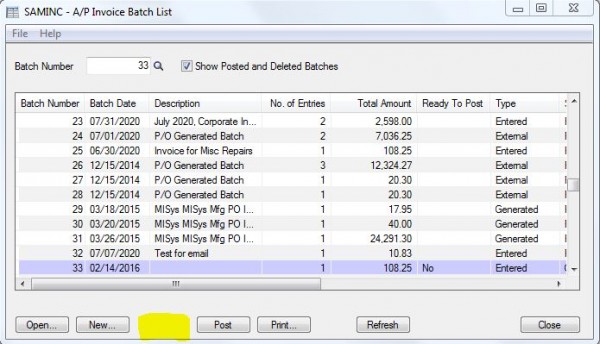 The Delete button is not visible to the user, thus eliminating the possibility of accidentally erasing hours of work. The "UI Profile" works with most data entry screens in Sage 300 and is a powerful but often overlooked feature. Looking for more great tips and tricks or have questions? Contact us today for more information and help with your Sage 300 system.