Sage 300 Newsletter – February 2018
Keeping You Up-To-Date With Information About Sage 300
Solving Your Business Gaps: A Preview of Our 2018 Sage 300 Webinar Series
By: Sean Fleming, Senior Solutions Engineer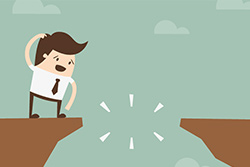 The start of a new year is a good time of year to ask the tough questions.
What are your Gaps?  Where is your next crisis likely to come from?  What current processes are slowing you down, how do they affect your customers experience?  Do your gaps impact employee morale? How are your Gaps impacting your bottom line?  What changes can you make to ensure 2018 continues to provide growth, and enrich your customer and employee experience?
Gaps aren't just for SMB's, a recent article from Business Insider focused on food shortage that Wholefoods was experiencing.  Having food on the shelf seems pretty simple, not having it suggests that they haven't asked themselves the right questions to identify their gaps in their current processes.  Not asking the right questions happens to all companies, the team at Net at Work is here to help you identify your technology and business process gaps.
One way to do this is through education.  In 2018 the Sage 300 practice at Net at Work will provide no less than 56 Webinars focused on providing technology solutions and improved business processes aimed at plugging the gaps within your organization.
Sage 300 2018 Webinar Series
We will be offering 8 different educational series focused on solving different challenges that our customers our looking to overcome. We are currently running the Setup & Intelligence Series (see links below). Please watch your inbox for details on the rest.
Setup Series – Looking at the impact of your setup options, is it time for a change? Register Here.
Intelligence Series – Helping you understand what is the right Business Intelligence tool for you. Register Here.
Automation and Workflow Series – Learn how we can take typical predictable processes administrative processes and turn them into actions and results.
Document Management Series – This is the buzz of 2018, scale, speed, security, automation, workflow and approval routing with complete integration to Sage 300. The Document Management Webinar Series will be on Feb 22 with the topic: Document Capture: Never Touch a Document Again.
Warehouse Management Series – Improve accuracy, increase your speed, meet compliance requirements, Integrate seamlessly with Sage 300
Service Management Series – If you are in the Service Industry, managing projects, time, costs and billing can be a challenge.  This series will show you how an integrated solution reduces the gaps when it comes to servicing your customers.
Year End Series – Year end comes once a year and it's always great to get a refresher course to ensure you are in compliance.
Net at Work's Favorites Series – Sage 300 has a massive ecosystem of 3rd party products that address many industry specific gaps.  The Net at Work team will share with you some of our favorites that help our customer solve issues and fill the gaps.
Another way to identify gaps is engage us directly, have us ask you the tough questions.  Connect with your Account Manager, tell then you need help identifying the gaps within your organization.  We will setup a call to talk about a specific area of concern or we can arrange a more thorough Business Process Review (BPR).
Either way we see our role as your trusted advisor to help you overcome and or get ahead of your next potential challenge before it happens.  The journey is so much more enjoyable if you stay ahead of the gaps!