Sage 300 Newsletter – November 2015
Keeping You Up-To-Date With Information About Sage 300
Getting to Know the Net at Work CRM Team
By: Danny Estrada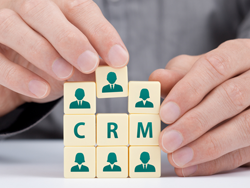 It's been a while since the CRM team has been in some of our ERP newsletters so I figured the best thing to do (since we have not spoken in a while) is to let our clients know what the CRM team has been up to and talk about some of the creative things we have been doing for customers. Before we go there I wanted to take a minute and thank you for your current and future business with us. Whether you are a longtime client (some for 20 years) or newly on board we understand that you pay our checks and keep the lights on.
Now for the fun stuff. First, many think of us when it comes to Sage CRM, but we now do other things too. While most of our Sage 300 clients will go down the Sage CRM path, we also have customers integrating with both Microsoft and Salesforce. We have skilled professionals in all three areas and many of our best consultants work on more than one product. There are many reasons why to choose one or the other, but in today's business climate 91% of organizations with more than 11 employees have a CRM. That means if you don't have one or are having challenges give us a ring and we can help you down the right path.
That leads me to some of the other things we are doing in the world of CRM these days. We have been doing a fair amount of CRM evaluation business. This runs the gamut from helping people decide what CRM option is best for them or our CRM Forensics and CRM Rescue. These programs are a direct result of client input regarding help with your existing CRM platform and the best way to do an audit of what you have and how to get the most out of it. In business it never hurts to have a plan and we have seen some great turnaround stories.
Lastly, we have also done a significant amount of work over the years with our Sage 300 practice in building out some tightly integrated solutions that may cover anything from collections management, to handling recurring billing and deferred revenue, or managing the returns or purchase order process. I guess the main point is that CRM is an open playbook and we can create almost anything that may be a gap in your other systems or make your other systems better.
If you haven't talked to us in a while, let's schedule a visit and see how we can help you meet your 2016 goals.