Sage 300 Newsletter – November 2015
Keeping You Up-To-Date With Information About Sage 300
Making the Most of Your Sage 300 System: Innovative Ways to Configure and Use Sage 300
By: Janice Hall, Senior Business Analyst
When it comes to inventory control, most businesses are interested in utilizing their accounting system to help minimize on hand quantities and quick turnover (for which Sage 300 is great) but not all business consider that to be good inventory management! How about using the Inventory Control module to track an artwork collection that appreciates in value the longer it is held?
With the flexibility of the Sage 300 system and some very creative system design on the part of our consultant, we utilized the Inventory Control (IC) module along with Optional Fields, and the "OpsInquiry" function to build a full history for each piece and follow its journey from purchase, appreciation in value, to the final sale. We can see artwork details from the OpsInquiry module, or use Sage Intelligence to search, sort, and filter to find what you need when you need it.
How'd we do that? We started by adding relevant Optional Fields to our IC Item Master File: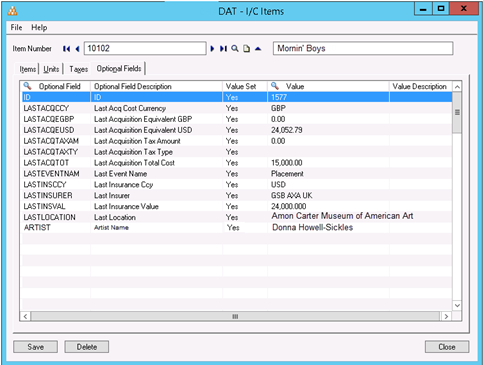 Then, we added a .jpg file of the artwork which is visible from the Ops Inquiry screen: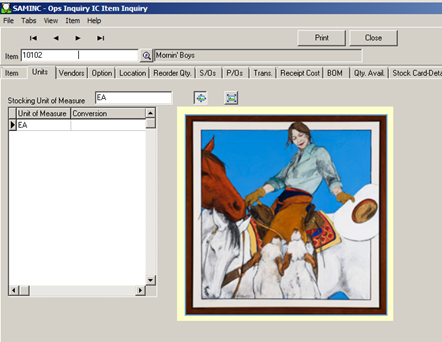 We also used the core functionality of Inventory Control to record purchases, location transfers and appreciation in values. Artwork is tracked by location and can be grouped and reported on by type – sculpture, multi-media, oil paintings etc.
When integrated with Accounts Receivable and Accounts Payable, we can easily track the inventory, contacts, galleries, sales and more.
Have an inventory or system design challenge? We can help! Just give us a call or email for information on how we can assist you with getting the most from your Sage 300 system.