Sage 300 Newsletter – Q2 2020
Keeping You Up-To-Date With Information About Sage 300
Complimentary Virtual Sage 300 Training Courses
By: Net at Work Team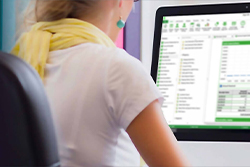 Working with a reduced or remote workforce with Sage 300 has become a common requirement for many companies dealing with the COVID-19 crisis. Net at Work has pulled together a "How To" series to help businesses keep moving forward by understanding the basics and looking at best practices to work remotely.
This complimentary series focuses on key Sage 300 functionality you need to know to keep your business running despite the obstacles everyone is facing.
Watch our Sage 300 experts as we deep dive into these featured topics:
How to use Sage 300 Web Screens
How to Process AP Invoices & Payments Electronically in Sage 300
How to Generate Financial Statements in Sage 300
How to Complete a Bank Reconciliation using Sage 300
How to Pay Vendors and Allocate Expenses Properly using your Corporate Credit Card
How to Capture Credit Card Payments in Sage 300
How to Create Ad-Hoc Reports in Sage 300
How to Integrate Sage 300 with Microsoft Office
How to Create Quotes and Orders with Sage 300 versus Sage CRM
How to process A/R Receipts in Sage 300
How to Create A/R and OE Invoices in Sage 300
Visit here for full course details and to watch these training sessions on-demand.