Sage 300 Newsletter – Q4 2019
Keeping You Up-To-Date With Information About Sage 300
Sage 300 2020 Payroll Tax Updates Available
By: Net at Work Team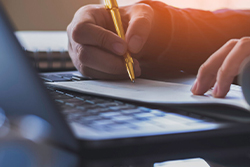 Sage has released the Sage 300 Payroll Tax Updates for both Canadian and US Taxes that take effect for January 1, 2020. Please note that these should be installed as follows:
After you have completed your last payroll run for 2019
Before you start your first payroll run for 2020
Please note that the W4 forms for 2020 have been changed by the federal government in the United States and also adopted by some states. Please make sure that any employees that want to change their elections and file with the new status codes available or for the various withholdings do the following:
Fill out a new W4 form
Please note that you will not be able to input the new status or update withholding sections on the new W4 until the payroll tax update has been installed.
You must to on 7.3 of US Payroll and integrated to 2018, 2019 or 2020 of Sage 300.
Upcoming Live Webinar:
Sage 300 Year End (US & CAD Payroll)
Date:
Jan 2
Need assistance with applying a product update or payroll tax update? Please contact us at our Help Desk 646-293-1777 helpdesk@netatwork.com  and we will get a consultant to assist you.