Sage X3 Newsletter – Q1 2019
Keeping You Up-To-Date With Information About Sage X3
Field Service Solutions
By: Net at Work Team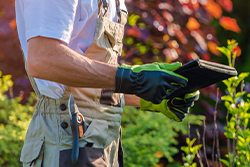 One of the recent areas of demand has been around helping companies get better control of their field service organizations.  Many companies have technicians or specialists who are sent to customer locations in order to do installations, training, repairs or proactive maintenance.  Traditionally, most of these firms have managed the process of quoting and then scheduling technicians manually using Excel, group calendars, and other offline & disconnected means. For those technicians in the field, recording of time spent on site, time spent traveling, parts and equipment used, etc. is equally manual and results in a lot of 'catch up work' once they get back to the office.
Our CRM team has been working with organizations to apply Microsoft Dynamics 365 CRM with Field Service to dramatically overhaul and improve these processes. The fully integrated cloud solution, which can run on a laptop, tablet and mobile phone, allows the entire process from quoting, to order approval, scheduling, dispatch and recording of results on the work orders (tickets) to be done in a centralized, coordinated manner. It reduces manual steps and errors dramatically and ties the entire service organization into sales and customer management, all built in a best of breed CRM solution.
Watch Recorded Webinar:
Microsoft Dynamics 365 CRM with Field Service
If this is something you'd be interested in learning more about, please contact us and we can introduce you to the experts.