Sage Enterprise Management Newsletter – December 2018
Keeping You Up-To-Date With Information About Sage X3
Tips and Tricks: Finding Tables and Field Names in Sage Enterprise Management
By: Net at Work Team
There are a couple of ways to determine what tables and fields are used in a Sage EM screen.
Navigate to the screen containing the field you want to know what table it is from
Start by creating a new record and navigate to the field in question
Click Esc + F6 or click Field information in the right panel under Help>Diagnosis
A box will display with the name of the field and screen name. Cancel the transactions and close the page.

Navigate to Development>Script dictionary>Screens>Screens and search for the screen. The Screen dictionary will appear for the screen selected.  It will have 2 tabs.  The General tab will contain a list of tables associated with the screen

Click on the Fields tab to display the fields contained in the screen. Note:  The list of fields will contain fields entered, displayed and hidden

Note: Be careful not to change anything and Cancel and then Close page
The second way to determine tables and fields used in a screen is to navigate to Function help for a function.
Function help appears in the right pane of a function under Help

Click Function help and the Sage EM Function help for your function will appear in the DM Online help center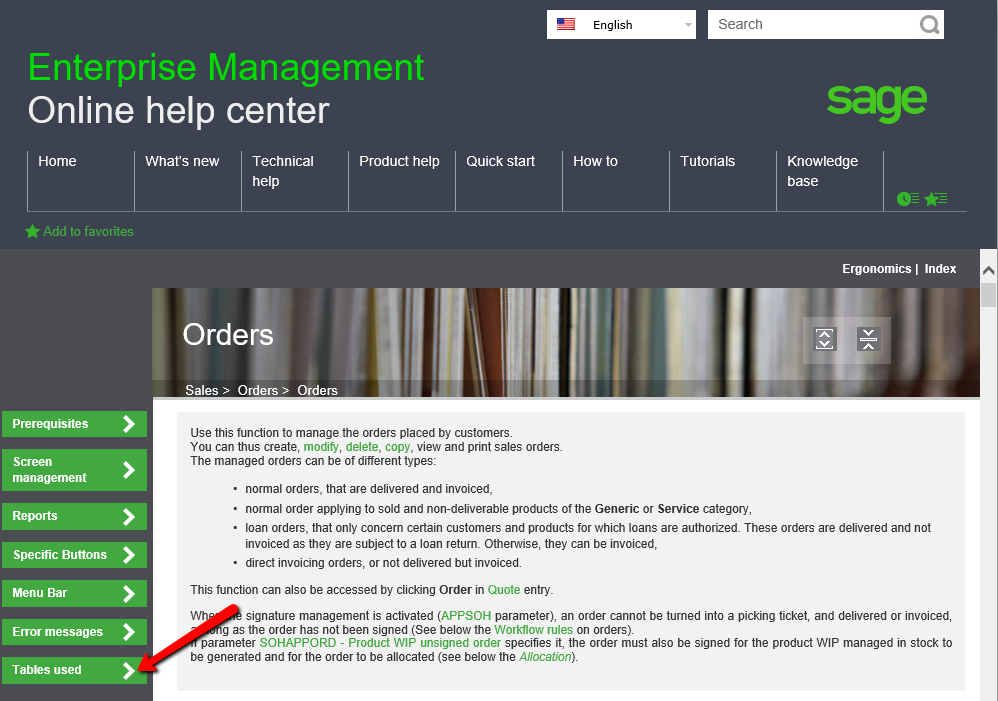 Click Tables used, and you will jump to that section of the help. Then click "implementation"

The function Implementation will display. Click Tables used here

Sage EM will jump to the Tables used section of the document

To see the fields in a table, navigate to the Sage EM Online Help Center

Click on Technical help

Then click Table dictionary

A list of the table dictionaries will display. Choose a group or scroll to a specifific table and click to open

A list of the fields in alphabetical order will appear