Abila Names Net at Work to the 2016 President's Circle
Second Consecutive Year Company Recognized for Outstanding Performance and Excellence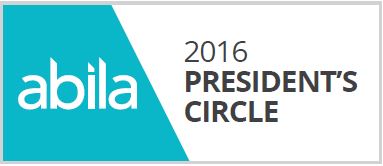 March 15, 2016 – Net at Work, a leading provider of integrated technology solutions servicing non-profit and for-profit organizations, announced today that Abila, the leading the leading provider of software and services to nonprofits named Net at Work to the 2016 Abila President's Circle in recognition of being a top growth partner.
"Congratulations to all the members of the 2016 President's Circle," said Krista Endsley, chief executive officer for Abila. "Their hard work and dedication to supporting nonprofits is truly something to be celebrated. Our Business Partners are not only a key part of our success, they are also vital to the growth of our clients, enabling them to further their missions every day."
Having formally launched its Nonprofit Practice in 2013, Net at Work has quickly emerged as one of the premier providers of Abila support and dedicated services to nonprofits and government organizations. This is the second consecutive year Net at Work been recognized as a Top Abila partner.
The Net at Work Nonprofit Practice helps non-profit and government organizations automate and manage their operations through the use of technology. Their team of CPAs, consultants, and developers are software and accounting experts with deep experience in payroll, human resources, audits, grant reporting, and internal control processes. Net at Work offers solutions that can change and grow with organizations through the most difficult budget, human capital management and payroll decisions alike.