Net at Work Announces Acquisition of Management Advisory Services (MAS), Michigan-based Sage Business Partner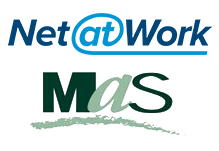 New York, NY — October 9, 2018 — Net at Work, a full-service technology and business consultancy, and Sage's top partner in North America, today announced it has acquired Management Advisory Services (MAS), a long-time consultant and reseller of Sage 100 (MAS 90) and Sage BusinessWorks.
The acquisition provides MAS' clients access to Net at Work's award-winning Sage team, providing unmatched support for the full suite of Sage ERP, CRM, HRMS and extended solutions, while delivering a complete range of technologies and services to help them grow their business, including: document management, eCommerce, payment processing, and cloud/managed IT services.
"We're all excited to welcome the clients of Management Advisory Services to Net at Work," said Edward Solomon, Net at Work's Co-President. "Our team is ready to deliver outstanding support for all of their Sage applications, and we look forward to providing additional resources and direction to help our new clients unlock new levels of efficiency, performance and success."
"I have known key players and executives at Net at Work for many years and have long admired and respected their reputation, commitment to success and drive in providing extraordinary customer service," said Doug Blazer, founder of Management Advisory Services. "As I retire, I want to personally thank all of our clients for helping us to grow our business year after year, and I have the utmost confidence that their needs are in excellent hands with Net at Work."
The acquisition is the most recent example and validation of the Net at Work Partner Alliance Program, which gives professional services firms a path to a graceful "exit". The program also enables VARs and professional services to augment their in-house specialties by accessing Net at Work's resources.