Sage 100 Accounts Payable (A/P) Tip: Use P/O Receipt of Invoice Entry for Vendor
Have you ever accidentally entered a vendor invoice in AP Invoice Data Entry instead of PO Receipt of Invoice?
If most of your vendor's invoices should be entered through the Purchase Order module, there is a setting you can check in Vendor Maintenance.
Open Sage 100, Accounts Payable, Main, Vendor Maintenance
Select, Vendor
Click, Additional tab
Check, Use P/O Receipt of Invoice Entry for this Vendor
Click, Accept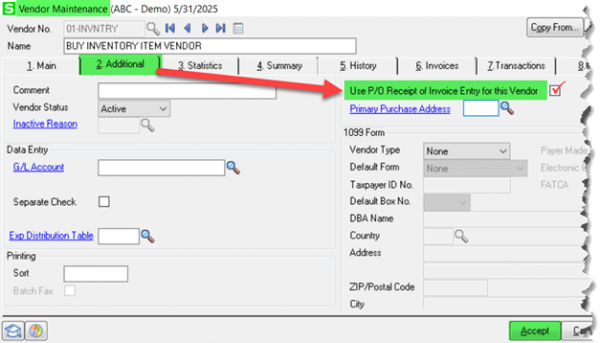 Now, if you enter that Vendor No into AP Invoice Data Entry, you will receive a prompt:

You will click OK and you can continue to enter an invoice or Cancel so it can be entered into PO Receipt of Invoice Entry.
This is an important feature to avoid stranded Purchases Clearing entries due to purchase orders remaining in a backorder status.