Sage 300 2015 Year-End & Payroll Tax Table Updates
The Q4 2015 tax update for Sage 300 U.S. payroll are now available for download from the Sage Customer Portal.
The revisions in this update include changes in the Federal tax rate, state and local tax rate changes, and the enforcement of system-supported State Disability Insurance (SDI) codes. In addition, Sage also included enhancements in the W-2 tax filing window and improvements in the Aatrix integration, allowing for simpler e-filing from the W-2 tax filing window and from My Workforce Analyzer*.
To download the tax update, please visit KB45424. Please note that the update for My Workforce Analyzer is a separate install.
Please Note:
The most current updates on the Sage Customer Portal are in the middle of the list of downloads (reference image below), so be sure to carefully select the correct one for your system.
ONLY Q4 tax update will be for payroll version 7.2. If you haven't scheduled your upgrade yet, please contact us right away.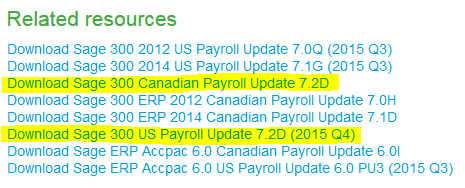 If you need assistance with the update and installation please contact us here or call 888.494.9479 and one of staff members will be in touch.
*My Workforce Analyzer is offered on a free introductory basis until February 29, 2016. Thereafter, you must purchase a separate subscription to the My Workforce Analyzer tool. Offer is valid only for Sage 300 customers with Sage Payroll 7.2 under their Sage Business Care Plan. Terms and conditions subject to change at any time without notice.