LATAM FISCAL REQUIREMENTS
Do you struggle to meet LATAM requirements such as tax declarations, compliance reporting, and electronic invoicing? Net at Work can help!
Net at Work is the best choice for LATAM companies
As a Sage Development Partner, Net at Work publishes standard localized versions of Sage Software solutions for Latin America (LATAM). We specialize in assisting North American and European based companies that have subsidiaries or divisions in LATAM, as well as companies that have headquarters in the region. Our localized versions cover taxation requirements, local business practices and compliance reporting. They provide pre-configured parameters to ensure compliance with legal regulations and local accounting rules.
Why Net at Work for LATAM?
We understand the complexities of localized fiscal requirement
We have written Mexican & Peruvian legislation for Sage X3
We provide LATAM fiscal requirements enhancement for Sage X3
We are actively adding legislation enhancements for more LATAM countries
With over 300 customers across the USA, Caribbean and Latin America, we are one of the largest and most reputable business partners for all your business technology needs
Your Gateway to LATAM
Our catalogue of localized versions for Sage X3: Mexico, Peru and (coming soon) Colombia, Chile. In partnership with a renowned auditing firm, we are provided with legal intelligence and make provision for changes by adding regular updates to our localized versions of Sage X3. As a Sage Development Partner, we work closely with Sage on road mapping the catalogue priorities.
Some Caribbean countries will not require a separate localization specific to that country. We have successfully implemented systems in these countries using the North American legislation with full fiscal compliance. Please contact us for a list of these counties. However, please note that our bi-lingual skills have often assisted during the implementation as many users are often not native English speakers in much of the Caribbean (French and Spanish are often dominant languages). Net at Work staff members are fluent in all three languages.
In addition to our standard localized versions, Net at Work can offer support on a project basis to localize Sage X3 and Sage 500 for a specific country.
Net at Work has a main office in Miami, the gateway for LATAM, with other offices in Mexico, Buenos Aires, and Granada.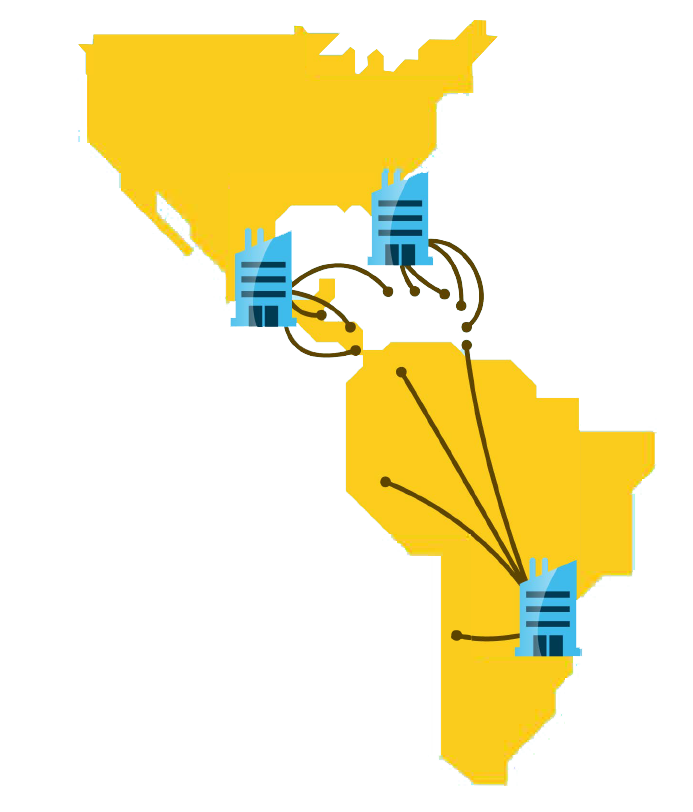 Access the Sage X3 Mexican Fiscal Requirements Enhancements (MFRE) DataSheet
Net at Work has customers located throughout LATAM in the following countries:
Contact a LATAM ERP Expert