FREE WHITEPAPER:
Scrappy Won't Scale: The Digital Imperative for Manufacturers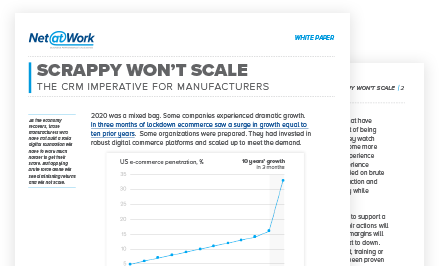 Digital technologies are the scalability enabler, allowing manufacturers to gain new agility, deliver exceptional service, and leverage a skilled workforce. Those manufacturers that have not built customer facing functions and systems are being left behind.
But if you've never done it before, how do you get started?
This White Paper Covers:
Why & how the playing field has shifted and now includes the customer experience
An outline on taking a strategic approach to digital enablement
The process of building a digital platform for a manufacturing company
DOWNLOAD THE WHITEPAPER: