THE CLOUD CREDIT: HOW IT WORKS
Net at Work clients who subscribe to Cloud at Work hosting for a minimum of 24 months will receive a credit to be spent with Net at Work on any project: new software, upgrades, migrations, support etc.

A 10-user Sage client selects to move ahead with Cloud at Work for Sage hosting

Cloud at Work quotes $1,000 per month for 24 months and includes a redeemable certificate for $2,850 to be applied to any project with Net at Work

Client Receives $2,850 and applies it to Net at Work on a current open invoice or future project
*Figures in this example are used for illustration only. Actual Credit amount will increase or decrease based on hosting cost per month.
Cloud at Work + Net at Work
Sage Cloud Hosting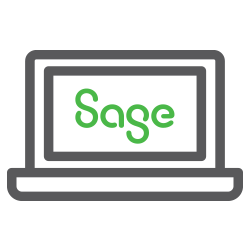 A Sage-focused Cloud Solution
Patches, Fixes, Support & Training Included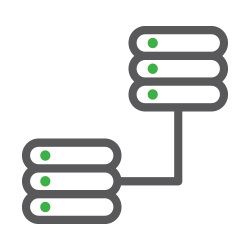 Enterprise-level Cloud Technology
SaaS Experience, Tailored to Fit Your Organization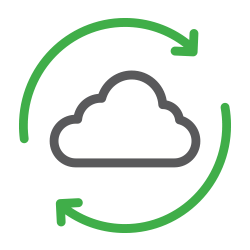 Peace of Mind
Industry-standard Uptime, Monitoring and Support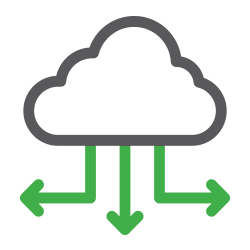 Beyond Sage Application Hosting
A Flexible Platform to Improve Your Workflow
Infrastructure
Entirely Redundant Infrastructure
Centralized Management
Dedicated Virtual Environment
Bi-coastal Data Storage and Disaster Recovery (if purchased)
Hourly SAN snapshots, Daily storage backups
Support – 24x7x365
24x7x365 Monitoring, Alerting, and Notification
On-site Operational Management
On-site/On-call Engineers and Specialized Personnel
Local and Remote Real-time Monitoring
4 HR RTO (Recovery Time Objective) (if purchased)
1 HR RPO (Recovery Point Objective) (if purchased)
Data Center Space
~7,200 sq. ft. of available space
18 inch Raised Floors
10 ft. Ceiling Clearance
Up to 250 Watts/SF Raised Floor
10 Compartmentalized Data Center Suites
Dual Utility for Capacity
Data Center Grade Fire Suppression Systems
Primary and Failover Electrical Power Circuits
Uninterruptable Power Supply ("UPS") and Backup Generator
Redundant Cooling to 75 Degrees Fahrenheit (5% fluctuation)
Overhead Ladder Racking for both Power and Network Wiring SSAE 16 Type I, II, & III Compliant Facilities
Security
24x7x365 On-site Personnel
Dual Factor, Biometric Access Control
Man Trap with Card Access System
Live and Recorded Video Surveillance
Monitored Open Door and Security Breach Alarms
Network Connectivity
Managed Dark Fiber, High Speed Fiber Optic Network
Multiple, Diverse Fiber Feeds to Data Center
Carrier Neutral Facilities with Multiple Tier 1 Providers
Overhead Ladder Racks for Network Distribution
Carrier Neutral, High Availability & Resilient Internet Connectivity
10Gb Backbone
Building Description
~125,000 sq. ft. total space
Three Story with Concrete Masonry and/or Steel Walls
N+1 Power and Cooling Configuration
Energy Efficient White Roof
Crash barriers around physical infrastructure