What's New in Sage X3? Exploring V12 2021 R4
Sage recently released Sage X3 Version 12 2021 R4 with some nice new features and enhancements to existing features. In this blog post, we'll review the capabilities delivered by some of the key new features & enhancements in this latest release. For a full description of all the new features and enhancements delivered with this release please refer to the attached 2021 R4 Highlights PDF or the What's New section of the Sage X3 Online help center.
Finance
Tracking deleted payments
Use the PAYDELTRC – Tracking deleted payments parameter (TRS chapter, PAY group) to determine whether information for deleted payments, like date and user, is saved in a dedicated table.
The default value for most legislations is No, and information related to the deleted payment is not saved.
The data is stored in the PAYMENTPORH and PAYMENTPORD tables.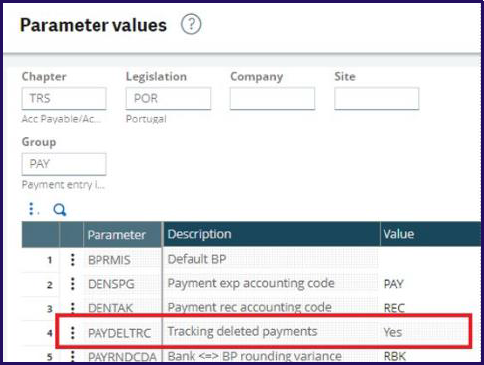 Distribution
Sage X3 Automated Data Collection
Extended features have been added to Sage X3 Automated Data Collection to simplify navigation and improve efficiency.
Select transactions and perform tasks with ease using a new navigation menu.
See only those transactions you have permissions for to improve screen readability.
Use advanced search filters on purchase orders and see on-screen product descriptions.
Perform a stock count on products managed by global serial numbers.
Group license plate numbers (LPN).
Project Management
Time billing
A new invoicing process – Time billing – has been introduced for companies needing to bill a project according to time spent. Time billing uses employees' time entries defined as billable and tracked at the project level, budget level, or task level for scheduled invoices to determine the amount to bill customers.

A new billing mode – Time billing – is available from the Project billing icon in the Project management function (GESPJM). Time billing identifies a project element where a billing plan based on time entries can be defined. Scheduled invoices associated with a sales order line linked with a non-deliverable product are submitted according to the billable time in the billing plan until the sales order line is billed in full.
The scheduled invoices are generated manually, or automatically which correspond to the billable time of a single project, or a group of projects. It is important, therefore, that billable time spanning the billing periods is aggregated, adjusted, and validated for the project, budget, and tasks during the life of the project
A new BILTIMSTA – Billable time status parameter (TC chapter, PJM group) determines which status is required to consider a time entry line as billable. Set to Validated, Controlled, or Approved status.
A new BILTIMSPLI – Split billable time if needed parameter (TC chapter, PJM group) determines if a billable time entry line can be split to be consumed over multiple sales order lines. Set to Yes or No.
The Project billing function uses the PRGB – Project billing plan sequence number to generate billing plan numbers in a Time billing context.

Platform
Visual process editor enhancements
The Visual process editor offers several new features. You can now:
Select multiple elements.
Copy and paste shapes.
Organize shapes inside the canvas easily thanks to dynamic alignment guidelines.
Add and remove underlines in text.
Add text into a shape without pressing Enter.
Move the action pallet around the screen.
For further information about Sage X3 Version 12 2021 R4, or for any other questions about Sage X3, please contact us.