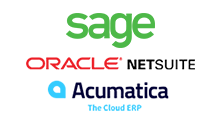 Cloud ERP Comparison – The Shift to Cloud ERP
You are sure to have noticed that adoption of cloud-based ERP systems continues to accelerate rapidly. But how do you determine when your company should make a move, or even if you have to make a move?
Additionally, many Sage ERP users don't realize they can get a cloud like experience out of their current system – so should you consider Sage hosting options or other Cloud ERP systems?
In this webcast we will review the options and implications for moving your ERP to the cloud, and the questions you should ask to ensure you get a solution best fit for you. Topics will include:
Benefits of moving ERP to the cloud & why it continues to gain market share
The differences between Cloud and Hosted ERP
An overview of today's leading cloud, hosted, and hybrid ERP solutions:
– Cloud at Work Sage Hosting
– Acumatica Cloud ERP
– NetSuite Cloud ERP