Why Managed Cloud Services Make Sense for Small Businesses
Do you work for a small business? If so, you may find you have a less-than-ideal level of IT resources. At least that is the case for many small businesses, many of which have no dedicated (or a very small) IT department. This post focuses on the benefits of managed IT cloud services for small businesses requiring additional IT support.
Managed cloud services part of larger managed services umbrella
Managed cloud services are defined as IT services that are hosted and managed by a third party. They belong to the larger managed IT services market, which includes the management of cloud and on-site information technology. As shown in the chart below, small businesses account for the greatest portion of the managed IT services market.
Figure 1: Of your managed IT services accounts, what percentage of revenues comes from the following company sizes?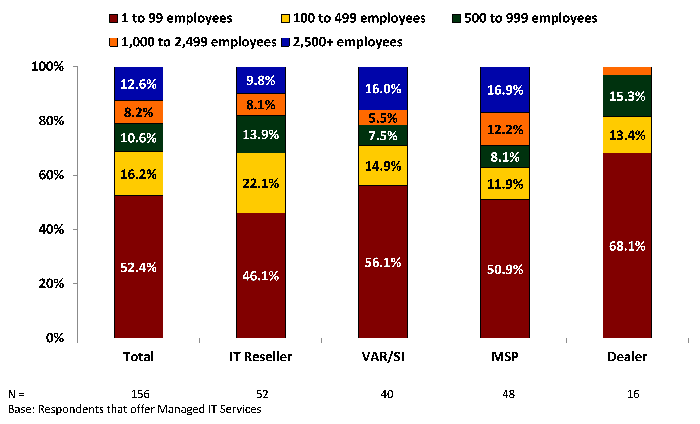 Source: Keypoint Intelligence-InfoTrends research
Managed cloud benefits around IT support
As mentioned above, small businesses often lack the necessary resources to conduct IT operations efficiently and effectively. Their IT budgets tend to be smaller than medium and large businesses, yet they may have an equally large dependence on information technology.
Fortunately, managed cloud services can give them the resources they need at an affordable price. Managed services providers often have specialized knowledge in particular applications, yet the price for access to these services is much lower than hiring employees with the required skill set.
Furthermore, when it comes to services like IT help desk and cloud support, they are more likely to provide assistance during off-hours—including nights, weekends, and holidays. It is often more difficult for smaller businesses to justify having employees on call during these times.
Managed cloud benefits around budget planning
With relatively small IT budgets, small businesses must ensure that costs do not get out of control. One way to achieve this is through a subscription model where costs remain the same over time. Under the service agreement, if you use "X" amount of services and maintenance you'll pay "X" amount of dollars. If more services are needed, the additional cost for these services is clear and steady as well.
Managed cloud services tend to follow this type of pricing model, while in-house IT operations are typically more subject to price volatility. Managed cloud services providers are able to keep costs affordable and stable through spreading them across their client base.
Managed cloud benefits around scalability
Small businesses must ensure every IT dollar is well spent. Often, they can't purchase additional IT capacity "just in case." Rather, they buy what they need for the foreseeable future, based on internal as well as customer-facing projects and operations.
The problem with this approach, however, is they may suddenly find themselves requiring additional IT bandwidth. Investing in on-site capabilities can be a time-consuming and expensive process. But scaling up with an updated managed IT cloud subscription can be as simple as a conversation with your technology provider and a change of plan.
What next?
If you think managed cloud services might be right for your small business, ask our IT specialists for more information.