ERP Solutions for Life Sciences
Maintain regulatory compliance and your competitive edge with
ERP software designed for pharmaceutical companies and the
life sciences industry.
Ready to Get Started?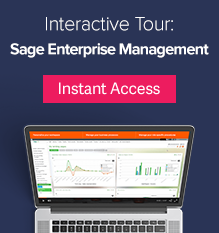 Meet the pressure to stay competitive and stay in compliance with an increasing array of regulatory requirements with ERP software designed especially for the challenges of your industry. Sage ERP X3 pharmaceutical and life sciences software provides manufacturers in pharmaceuticals, nutraceuticals, medical devices with an industry-specific solution to manage your most elaborate business processes and stringent requirements.
Sage ERP X3 pharmaceutical and life sciences software delivers industry-specific functionality with the flexibility to accommodate your specific business requirements.
Sage ERP X3 Process Manufacturing Suite for pharmaceutical and nutraceutical manufacturers provides automated support for process or batch manufacturing involving formulation management, weight calculations and potency management.
Sage ERP X3 Discrete Manufacturing Suite for medical device manufacturers supports the production of discrete units in configure-to-order, make-to-order, assemble-to-order or make-to-stock environments.
Fully integrated quality control.
Because all life science manufacturers require support for full lot control and traceability, quality assurance and control, and compliance with FDA regulations such as CFR 21 Part 11, Sage ERP X3 pharmaceutical and life sciences software delivers a fully integrated quality control process. Rigorously enforce inspections and ensure your products conform to required characteristics, operational tolerances or expected results. Conduct inspections at key event points or throughout the production and packaging processes, and automatically quarantine suspicious or substandard items for further inspection or disposal. The rules-based orientation of Sage ERP X3 prevents usage of any item that lacks an acceptable quality status.
Digitalization in the Chemical Industry: Choosing the Right ERP Solution as an Enabler of Growth
In this webcast, Matt Rand of Palmer Holland, a leading chemical distributor, joins us to discuss their motivation in seeking a new Chemical ERP business management solution, their digital transformation journey and why ultimately they chose Sage X3.

View Webcast
Why Sage X3 is The Choice for Chemical ERP
With ever-changing compliance rules and greater complexity, disjointed systems or too costly market solutions are the enemies of chemical manufacturers & distributors – occurring when ERP, CRM, & supply chain processes are allowed to operate in silos. Thankfully, today's business management solutions have been evolving to meet the industry's complex demands.

View Webcast
Winning in The Chemical Marketplace: Integrating eCommerce & Chemical ERP
Watch this recorded webcast for a look at how integration of Sage X3 and eCommerce is easy, powerful and a must-have for the fast growing digital chemical enterprise.

View Webcast
Telltale Signs that You've Outgrown Your Accounting or ERP Solution
View this on-demand webcast for an engaging discussion about how you can spot the not-so-obvious signs that you're running an outdated or underpowered accounting software or ERP solution. It will help you identify gaps in your current solution and recommend next steps.

View Webcast
5 Things Businesses Shouldn't Overlook When Selecting an ERP System
Watch this FREE recorded webinar to learn about a framework you can use for ERP justification and vendor selection. Ensure you don't overlook the important questions when choosing a software package to help run your business.

View Webcast
ERP in the Cloud - The untold story of simplicity, flexibility, and ROI
Learn how to easily assess different options for deploying ERP-on premise, on demand/SaaS, vendor-hosted, etc.-and get a rich understanding of what it means to be "in the cloud."

View Webcast

Client Testimonial: Five Star Products Inc.
Watch this Sage ERP X3 success story about Five Star Products Inc., a process manufacturer, and distributor of cement, precision grout and concrete repair products.
Dynarex Corporation
From its headquarters and distribution operations to its four remote shipping and warehouse locations, X3 provides enterprise-wide tools to this leading wholesaler of medical products.

View Client Story
Five Star Products
Learn how Sage X3 ERP solved the manufacturing and reporting challenges of this concrete and cement products manufacturer and distributor.

View Client Story
Golden Artist Colors, Inc.
Read how an ERP solution helped a global paint manufacturer streamline the flow of information, improve inventory management and enhance customer service.

View Client Story
Blount Fine Foods
Read about how one shellfish processor is positioned for continued growth with its ERP solution.

View Client Story
Schroeder Company
Learn how this dairy manufacturer milked the benefits of its ERP solution for better planning production and forecasting demand.

View Client Story
Rudy's Tortillas
Learn how this ERP solution that was a perfect wrap for a national tortilla manufacturer and distributor.

View Client Story
Ganong Bros. Limited
Learn more about how Canada's oldest candy company realized a full ROI from its ERP solution in less than one year through labor efficiencies and improved support of the company's growth and expansion.

View Client Story
Avmor Limited
Read how a leading cleaning products manufacturer and distributor experienced improved collaboration, decision making and forecasting from its ERP solution.

View Client Story
Aceto Corporation
Read how a leading global chemicals distributor found ERP success for improved flexibility, scalability and regulatory compliance.

View Client Story