Who We Are
We are a full service IT and business consultancy with unparalleled expertise in the development of business technology solutions. We deliver a range of unbiased, integrated solutions that brings our clients every competitive advantage possible.
What We Do
We help you design, select, implement, and scale all aspects of technology, using our comprehensive solutions portfolio. Our goal is to be considered an integral part of your business; utilizing promising new technologies to attribute to your success and maximize your total return on investment.
How We Do It
We have the most talented team of individuals, who work together to provide a 360 view of your business needs today, while providing an IT roadmap for your future. Our partnerships with the biggest names in technology ensure an unbiased approach, matching you with the best solutions for your needs.
Our Sister Companies
Swype Integrated Technologies is an Independent Sales Organization (ISO) offering efficient solutions for helping you pay, get paid and manage cash flow. Partnered with Sage Payment Solutions, Swype delivers a suite of credit and debit card processing solutions in a variety of ways.
Optimizing Business Communications From Print to Mail. A full-service document technology company, Docutrend is the go-to copier dealership, office equipment provider and provider of managed print services.
Pixafy is an ecommerce agency anchored in tradition and deeply invested in the future of digital commerce. We are online retail experts that specialize in B2C and B2B implementations.
Our Software Partners
Through business partnerships with proven technology leaders, including Sage Software, NetSuite, Abila and Microsoft, we deliver a range of unbiased, integrated solutions that bring our clients every competitive advantage possible. We leverage our individual and collective strengths to implement systems that are well tested, as well as offer full customization and servicing for any system or product we provide.
Learn More About Our Partners »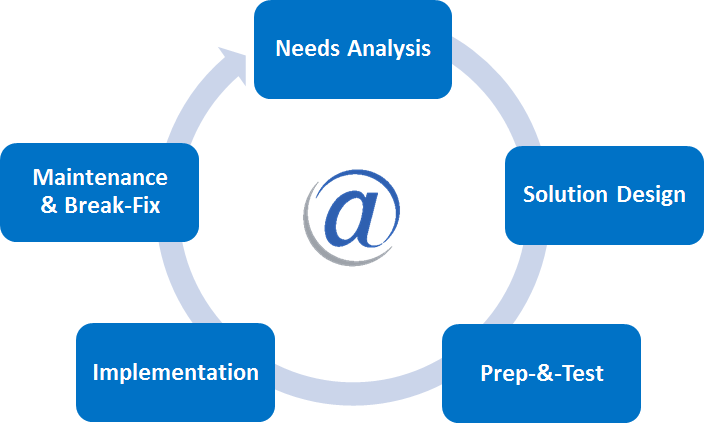 Our Methodology
You won't find the Net@Work team to be run-of-the-mill consultants. You will find us to be intelligent and strategic business advisors. Whether we are supplying a stand-alone solution, augmenting existing software, or integrating multiple systems, we provide tailored solutions to meet even the most specific requirements.
Net@Work is committed to providing solutions that are driven by your specific business aims. We deploy analysts to dissect your business processes and the technology in place to support those processes. We then design, test, refine and implement a solution suited to the unique demands of your business environment.
Staff Testimonials
Hear First Hand from Current Net@Work Employees


Our Leadership
Executive Management
Founder and Co-President
Founder and Co-President
Sales and Operations
Practice Directors and Consulting Managers
CRM Practice Director
Sage 300 Consulting Manager
Employer Solutions Practice Director