Wholesale Distribution ERP Solutions
Seize opportunities for global expansion and seamless growth with
ERP software designed for the wholesale distribution trade.
Ready to Get Started?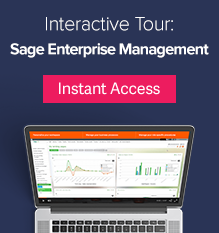 Globalization has intensified competition in your market -- and created amazing opportunities for growth. Capitalize on the potential with Sage ERP X3 Distribution software. Flexible and industry-specific, this wholesale trade ERP management system improves the efficiency of your global exchanges and easily adapts to business changes and growth.
Expand into new geographic markets, source new suppliers, acquire or merge with other companies, improve logistics operations domestically and abroad, and more.
Sage ERP X3 Distribution software enables you to meet the multi-national requirements especially important in mixed manufacturing and distribution environments, particularly for managing multiple currencies, languages, legislations and sites.
Ideally suited to wholesalers that purchase goods for resale to end-user customers or other sources within the supply chain, Sage ERP X3 is equally effective in managing the distribution and warehousing function of disperse manufacturers -- particularly if you manufacture products overseas but distribute in North America. Need robust importing functionality? Take advantage of Sage ERP X3's sophisticated wholesale trade ERP and inventory allocation routines and automated landed cost calculations.
Fully integrated, end-to-end functionality.
Sage ERP X3 wholesale distribution software also includes a full suite of applications to help you control costs and improve service, including:
Warehouse management
Flexible inventory sourcing and allocation
Line item details
Sophisticated pricing and promotion management
Logistics
Customer relationship management
After-sales service
Additional support for your distribution operations, particularly in warehousing and logistics, is built right in. Unlike other bolt-on solutions, Sage ERP X3 Data Collection is available out of the box as a pre-packaged solution that includes Sage ERP X3 software, middleware and industry-leading data collection hardware' seamlessly connect it to your radio frequency devices and other data collection equipment.
Sage ERP X3 Shipping is an optional wholesale distribution ERP software interface to best-of-breed shipping systems for companies distributing high volumes of small packet shipments in multi-carrier environments. Features including rate-shopping, web-based shipment tracking, and automated customer e-mail shipment notifications enable you to better service customers and save on shipping costs.
Digitalization in the Chemical Industry: Choosing the Right ERP Solution as an Enabler of Growth
In this webcast, Matt Rand of Palmer Holland, a leading chemical distributor, joins us to discuss their motivation in seeking a new Chemical ERP business management solution, their digital transformation journey and why ultimately they chose Sage X3.

View Webcast
Why Sage X3 is The Choice for Chemical ERP
With ever-changing compliance rules and greater complexity, disjointed systems or too costly market solutions are the enemies of chemical manufacturers & distributors – occurring when ERP, CRM, & supply chain processes are allowed to operate in silos. Thankfully, today's business management solutions have been evolving to meet the industry's complex demands.

View Webcast
Winning in The Chemical Marketplace: Integrating eCommerce & Chemical ERP
Watch this recorded webcast for a look at how integration of Sage X3 and eCommerce is easy, powerful and a must-have for the fast growing digital chemical enterprise.

View Webcast
Telltale Signs that You've Outgrown Your Accounting or ERP Solution
View this on-demand webcast for an engaging discussion about how you can spot the not-so-obvious signs that you're running an outdated or underpowered accounting software or ERP solution. It will help you identify gaps in your current solution and recommend next steps.

View Webcast
5 Things Businesses Shouldn't Overlook When Selecting an ERP System
Watch this FREE recorded webinar to learn about a framework you can use for ERP justification and vendor selection. Ensure you don't overlook the important questions when choosing a software package to help run your business.

View Webcast
ERP in the Cloud - The untold story of simplicity, flexibility, and ROI
Learn how to easily assess different options for deploying ERP-on premise, on demand/SaaS, vendor-hosted, etc.-and get a rich understanding of what it means to be "in the cloud."

View Webcast

Client Testimonial: Five Star Products Inc.
Watch this Sage ERP X3 success story about Five Star Products Inc., a process manufacturer, and distributor of cement, precision grout and concrete repair products.
Dynarex Corporation
From its headquarters and distribution operations to its four remote shipping and warehouse locations, X3 provides enterprise-wide tools to this leading wholesaler of medical products.

View Client Story
Five Star Products
Learn how Sage X3 ERP solved the manufacturing and reporting challenges of this concrete and cement products manufacturer and distributor.

View Client Story
Golden Artist Colors, Inc.
Read how an ERP solution helped a global paint manufacturer streamline the flow of information, improve inventory management and enhance customer service.

View Client Story
Blount Fine Foods
Read about how one shellfish processor is positioned for continued growth with its ERP solution.

View Client Story
Schroeder Company
Learn how this dairy manufacturer milked the benefits of its ERP solution for better planning production and forecasting demand.

View Client Story
Rudy's Tortillas
Learn how this ERP solution that was a perfect wrap for a national tortilla manufacturer and distributor.

View Client Story
Ganong Bros. Limited
Learn more about how Canada's oldest candy company realized a full ROI from its ERP solution in less than one year through labor efficiencies and improved support of the company's growth and expansion.

View Client Story
Avmor Limited
Read how a leading cleaning products manufacturer and distributor experienced improved collaboration, decision making and forecasting from its ERP solution.

View Client Story
Aceto Corporation
Read how a leading global chemicals distributor found ERP success for improved flexibility, scalability and regulatory compliance.

View Client Story