Net at Work Acquires Long-standing Acumatica Reseller Partner NexVue
Latest acquisition brings added technical expertise to leading technology advisor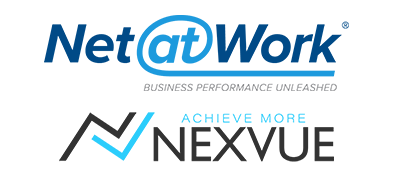 NEW YORK – October 5, 2023 – Net at Work, North America's largest provider of next-generation, digital operations platform technology solutions for small-and-medium-sized businesses (SMBs), today announced that it has acquired NexVue, a leading Acumatica business partner. This move will significantly expand Net at Work's Acumatica Enterprise Resource Planning (ERP) business and add some of the most experienced Acumatica professionals in the industry to the Net at Work team.
The acquisition of NexVue marks the second Acumatica acquisition by Net at Work in just over a year. The company previously acquired Acumatica partner ProServe Solutions in April 2022.
"Joining forces with Net at Work gave me the ability to do more for my customers," said Chris Cleary, founder of ProServe Solutions and current Acumatica practice director, Net at Work. "Our Acumatica users now have access to a host of next-generation solutions and industry and technological expertise to truly help them unleash the power of their business, while giving our employees far greater opportunities to develop their career pathway. I believe that both NexVue customers and employees will enjoy the same benefits as a result of this acquisition, and I cannot wait to see the amazing things the combined team will do together going forward."
A founding member of the Acumatica Partner Advisory Board, the company has also been recognized as Acumatica Distribution Partner of the Year, was a finalist for Acumatica Partner of the Year and ISV Partner of the Year and was named to the Acumatica President's Club.
"The Acumatica ERP solution has expanded to impact all aspects of our clients' business processes. Recognizing this, the fastest way to enable our clients and staff to leverage these new opportunities was to join a larger organization with a broader range of technologies and services," said Dan Schwartz, president and founder, NexVue. "Joining Net at Work was the best solution for both of our organizations, our clients, our staff, and Acumatica. The combined resources of our two organizations will enable more customer focus, a broader range of services and increased focus on our vertical market solutions. We thank our clients and staff for our rich history over the last 35 years. 
In addition to the wealth of technology services and support available through Net at Work, NexVue customers will be able to leverage Net at Work's Digital Operations Platform (DOP) approach to ensure that all aspects of their business are properly supported to drive greater efficiency, productivity, and profitability. Coined by Forrester Research, DOP represents the next generation of ERP, as characterized by its flexible structure, Artificial Intelligence (AI) and Machine Learning (ML) technology and accessibility for interactions beyond the browser.
If you are interested in discussing what an acquisition could look like for you, please contact Tom Miller.
About NexVue
NexVue is a founding Acumatica partner and developer of software solutions and services. Through the company's 360⁰ understanding of the Acumatica platform and framework, decades of industry experience and ability to understand and adapt to unique business environments, NexVue crafts solutions built on your vision for success.
About Net at Work
Founded in 1996, Net at Work is one of North America's largest SMB technology advisors. Our award-winning consultancy offers a rich portfolio of next-generation technology, industry expertise, and services to help organizations derive value from the transformative benefits of technology. Through the integration of ERP, HCM, and/or CRM solutions, Net at Work builds unique, industry-specific digital operations platforms that enable companies to compete more effectively in today's digital economy. For more information, visit www.netatwork.com.