All-in-one business management software
Companies around the world use Sage 300 ERP (formerly Sage ERP Accpac) to manage nearly every aspect of their business. Sage 300 ERP is a comprehensive multinational business management solution built on the most flexible and expandable architecture available today.
Cost-effective, quick to implement, and simple to use-Sage 300 ERP provides best-in-class solutions to automate workflow throughout your organization. Sage 300 ERP offers all the features you would expect from a powerful software solution: accounting, distribution, warehouse, manufacturing, sales, marketing, customer service, and business analytics-through business intelligence and real-time key performance indicator (KPI) dashboards. Plus additional features well suited for companies managing multiple businesses across country borders.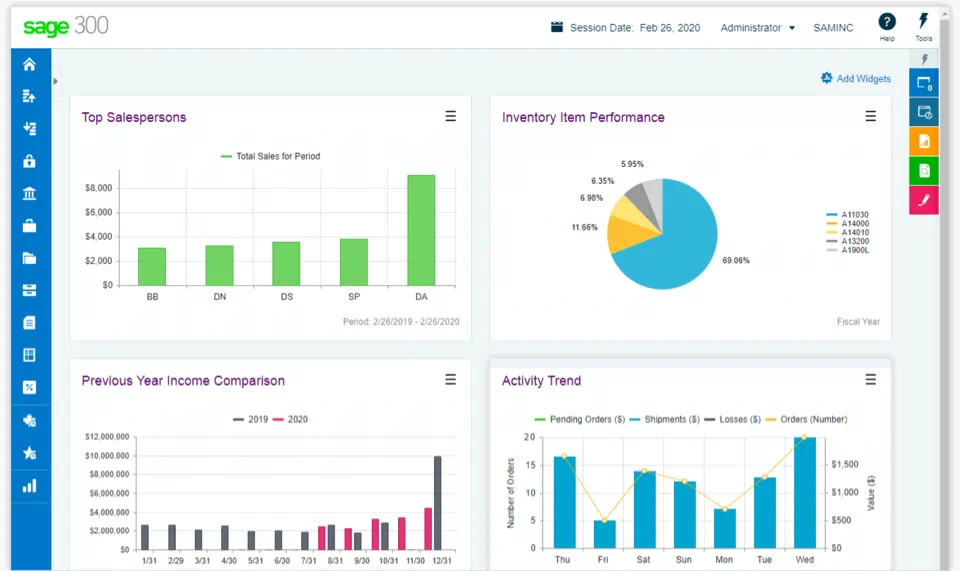 Technology Quiz
Quiz: Is Your Technology an Accounting Inhibitor or Enabler?
Plugging the Functional Gaps
Common Functional Gaps with Sage 300 & How To Turn Them into Strengths
ERP Migration
Learn more about how our experts can help you on your journey.
Sage 300 Security Alert
Sage 300 Security Alert: Updates That May Affect Use of Sage 300 – OAuth and TLS
Next Gen ERP
#ICYMI:Love Your Legacy ERP, or List it?
Featuring insight from Forrester analyst Duncan Jones.
Inflation Opportunity
The Inflationary Opportunity for SMBs Running a Legacy ERP System
Next Gen ERP
NEXT GENERATION ERP - WHAT IT IS AND WHY IT MATTERS
Five Hallmarks of Next-Gen ERP Applications
Signs Your ERP Isnt Cutting It
Signs Your ERP Isn't Cutting It & What To Do About It
If you've experienced any or all of these common problems with your current ERP, it may be time to upgrade to a new solution.
Upgrade
4 Reasons to Upgrade your ERP Business Management Solution
Old-school ERP systems are simply too slow, complex, and inflexible to keep up.