Net at Work Acquires Inventory Management Solutions (IMS), leading Sage Fixed Assets Software and Service Provider
Acquisition strengthens and expands Net at Work's Fixed Asset service; IMS Founder Suzanne Pedone to join Net at Work as a Subject Matter Expert (SME) for Fixed Asset Management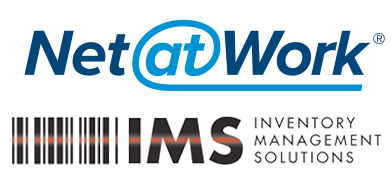 New York, NY — September 17, 2018 — Net at Work, a full-service technology and business consultancy, today announced it has acquired IMS (Inventory Management Solutions), an industry leader in fixed asset management solutions. For eight consecutive years, IMS was a Sage President's Circle Award Winner and Sage's Top Performer in Fixed Asset Management. The acquisition supplements, strengthens and expands Net at Work's Sage Fixed Assets Software (Sage FAS) practice.
IMS brings a roster of national and international Fortune 500 and 1000 companies into the Net at Work fold, where they will be supported by Net at Work's award-winning Sage team. They will also have "one stop" access to a complete range of technologies and services to help them grow their business, including: ERP/Accounting, Customer Relationship Management (CRM), Document Management, Employer Solutions, ECommerce, and Cloud/Managed IT services.
IMS Founder Suzanne Pedone will join Net at Work as a Subject Matter Expert (SME) for Fixed Asset Management; she will be joined by three IMS employees, and continue to work out of Tampa, FL.
"We're excited to welcome Suzanne and her team to Net at Work, as their addition takes our fixed asset practice to the next level, enabling us to offer unmatched expertise and service in providing fixed asset management solutions," said Edward Solomon, co-President and co-owner of Net at Work. "We look forward to working with their team and with their clients, who will immediately reap the benefits of a full-service shop that understands their business and works to unleash their growth every step of the way."
IMS was Sage's only trusted and contracted Business Partner providing Fixed Asset inventory services, and training for the Sage Fixed Assets Software Solutions, as well as an early adopter of RFID technology for use in fixed asset tracking. As part of Net at Work, Pedone's team will continue to provide barcode labels, software upgrades, services for Inventory of Assets and their specialized Fixed Asset Process training.
"We are extremely pleased to announce that we'll be joining Net at Work, the top Sage Partner and an award-winning end-to-end technology solutions provider that shares our core values and focus on providing responsive customer support," said Pedone. "I want to thank our customers around the globe for trusting us with their asset inventory projects over the course of these past 22 years. We will continue to provide you with the same level of service, while providing access to a complete, centrally managed IT solutions portfolio that offers the support, infrastructure and tools needed to more effectively compete."
Prior to the acquisition, IMS was a Net at Work Alliance partner, where the two companies shared resources and collaborated on projects; the close working relationship will make the transition quick and seamless. The acquisition is the most recent example and validation of the Net at Work Partner Alliance Program, which gives professional services firms a path to a graceful "exit". The program also enables VARs and professional services to augment their in-house specialties by accessing Net at Work's resources.