Net at Work Named to the Sage CEO Circle 2016
Recognized as Sage North America top partner for 2016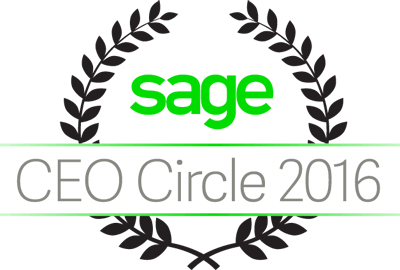 NEW YORK – November 22, 2016 – Sage, the market leader in cloud accounting software, announced the winners of its Sage CEO Circle, an inaugural world-wide awards program designed to reward and recognize outstanding performance of the top business partners from around the world who serve customers, recommend products, and advocate for Sage.
Net at Work, a leading provider of integrated business technology solutions, and Sage business partner, was named a Sage CEO Circle 2016 winner for their achievement as a Sage North America top three business partner for highest total product revenue, and for winning in the highest revenue growth category for Sage HRMS.
A highly recognized Sage partner, Net at Work specializes in the sales, installation and support of Sage 100, Sage 300, Sage 500, Sage X3, Sage HRMS, Sage CRM and Sage Payment Solutions has been recognized year over year for their outstanding growth and client satisfaction record.
The Sage CEO Circle winners will join Stephen Kelly, Sage CEO, on a special retreat taking place in February 2017, where winning Sage business partners will travel to Costa Rica to take part in an all-expenses paid luxury trip, which includes an FY 2017 business planning session and awards reception.