Sage HRMS is the new name for Sage Abra HRMS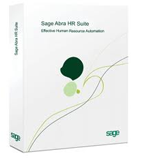 In 2012, the names of many of Sage Software's accounting and ERP lines, including Sage Abra HRMS will be changing.
Sage Abra HRMS will launch as Sage HRMS
The new version of the Sage Abra HRMS line will be launched with new features to help make your business life easier and with new names that help to simplify how the Sage portfolio systems is presented. Functionally, the program will not change except by the normal updates and upgrades to new versions as they do today.
If you're currently a user of Sage Abra Suite, there is no change to your product name. The name will remain Sage Abra Suite. If you're a Sage Abra SQL HRMS customer, you've no doubt already seen a transition to the new product name, Sage HRMS, with the release of the new version, Sage HRMS 2012, Sage's flagship human resources management system.
Learn More about the Sage Software Rebranding
Learn More about Sage HRMS – the new name for Sage Abra HRMS
Learn More about our Sage HRMS Service Area and Field Consultation