Are You Ready for Windows 7 End of Support this January?
As we get closer to January, the inquiries about Microsoft ending support for Windows 7 on January 14, 2020 are increasing daily. Post January 14, Microsoft will not be providing any security updates or support for PCs running Windows 7. This will lead to rise in use of non-certified hardware devices and unsupported peripherals for Windows 7 to name a few. If you're one of the 37% of people still using Windows 7, now is the time to start planning your upgrade to Windows 10.
Why Windows 1O?
Why skip Windows 8 and migrate directly to Windows 10? Mainstream support (i.e. product enhancements) for Windows 8 ended on January 9, 2018 and extended support (i.e. security and reliability patches) will finish on January 10, 2023. You don't want to be without any of these, so it makes more sense to upgrade Windows 7 straight to Windows 10 Pro. It features the latest technology and has been built for business.
Windows 10 Pro is Built for Business
Better Security – Keep your files safe with BitLocker and Windows Defender Antivirus that's built on machine learning technology.
Remote Access – Use Remote Desktop to securely access your files from any PC or tablet with an internet connection.
Cloud Storage – Protect your Word, Excel, and PowerPoint files from system crashes with automatic cloud storage.
Faster Sign-in – Enjoy three-times faster sign in using facial or fingerprint recognition with Windows Hello.
Your Upgrade Options
Choose to migrate your existing machines to Windows 10 or replace them with new devices that have Windows 10 pre-installed.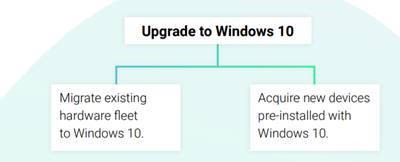 System Requirements
If you're planning to migrate your existing machines to Windows 10, ensure they have:
1GHz processor or faster
1GB RAM for 32-bit; 2GB for 64-bit
Up to 20GB available hard disk space
800 x 600 screen resolution or higher
DirectX 9 graphics processor with WDDM drive
Choose Your Migration Path
Microsoft provides migration tools to help make the transition from Windows 7 to Windows 10 easier. There is however a lot to consider when choosing between them and making the move to Windows 10.
To learn more about your options and for some direction on what is your best next step feel free to contact us and one of Microsoft experts will be in touch.