Altec Awards Net at Work 2016 Sage Partner of the Year Award
Altec announces honor at 2nd annual DocLink Evolution in Newport Beach, CA.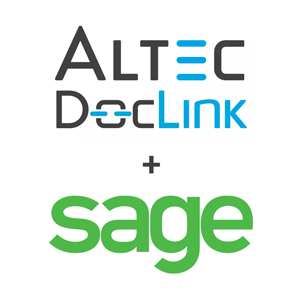 Laguna Hills, CA — March 21, 2017 — Altec Products, Inc., a leader in document management and workflow solutions, today awarded their 2016 Sage Partner of the Year Award to Net at Work at DocLink Evolution, Altec's annual customer and partner conference in Newport Beach, CA. The award recognizes Net at Work for their outstanding relationship with Altec by providing Sage customers with DocLink document management solutions.
This marks Net at Work's second Sage Partner of the Year Award, having received the same honor for their 2015 success at Altec's inaugural DocLink Evolution event last year. Altec President and COO Don Howren stated, "We appreciate our partners' efforts to incorporate Altec solutions for their customers. Net at Work recognizes the strategic value their customer can achieve when integrating their ERP solution with our DocLink solution. We are proud to have Net at Work so invested in DocLink, and are grateful for the opportunity to thank them for their support, enthusiasm, and partnership regarding all aspects of our solution. Net at Work consistently demonstrates their ability to deliver the benefits of Altec's Sage-endorsed solution to its Sage customers. This award is well-deserved."
"We are committed to providing our clients with the best and most appropriate business technology solutions available, which is why working with recognized industry-leaders such as Altec is so important to us," said Alex Solomon, Net at Work's Co-President and Co-Founder. "Altec's DocLink solution is a perfect fit for our Sage clients looking to enhance their business processes and improve operational efficiency with an enterprise document management solution. We are honored to receive this award, and we look forward to our continued relationship with Altec to provide our clients with the most robust and flexible solutions available."
To learn more about Altec solutions for Sage, visit our Doclink resources center.