Leading Technology Advisor Earns Managed Services Accolades
Net at Work named to ChannelE2E Top 100 and MSP 501 lists

New York, NY — August 16, 2023 – Net at Work, North America's largest provider of next-generation, digital operations platform technology solutions for small-to-medium sized businesses (SMBs), today announced it has been ranked among leading firms by both ChannelE2E and Channel Futures magazines.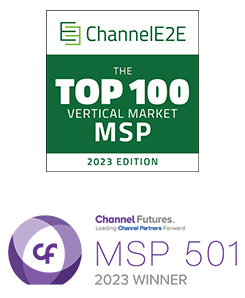 Channel E2E named Net at Work to its top 100 vertical market Managed Services Providers (MSPs) list, ranking the technology advisor as the top MSP in the manufacturing sector and among the top 20 overall. Rankings are based on annual recurring revenues in specific markets for the 2022 calendar year.
Channel Futures also named Net at Work as one of the industry's best-in-class businesses growing as a result of recurring revenue and innovation. Its MSP 501 list classifies providers based on financial performance according to long-term health and viability, commitment to recurring revenue and operational efficiency. Since its inception, the MSP 501 has evolved from a competitive ranking into a global list of innovators focused on high levels of customer satisfaction at small, medium, and large organizations in public and private sectors.
The managed services offering of Net at Work complements its digital operations platform (DOP) approach to integrating industry-specific, next-generation technology, like Enterprise Resource Planning (ERP), Human Capital Management (HCM) and Customer Relationship Management (CRM), to support all aspects of a business.
"As more and more SMBs face challenges with legacy systems and limited IT resources, the ability to lean on an industry-recognized technology advisor, like Net at Work, is instrumental to their ability to compete effectively in today's digital economy," said Brian Kingsley, practice director, managed services, Net at Work. "Our customers can trust that their IT and help desk, data backup and cybersecurity needs are well supported and aligned to their technology strategy and roadmap."
To learn more about Net at Work's managed services, click here.
About Net at Work
Founded in 1996, Net at Work is one of North America's largest SMB technology advisors. Our award-winning consultancy offers a rich portfolio of next-generation technology, industry expertise, and services to help organizations derive value from the transformative benefits of technology. Through the integration of ERP, HRIS, and/or CRM solutions, Net at Work builds unique, industry-specific digital operations platforms that enable companies to compete more effectively in today's digital economy. For more information, visit www.netatwork.com.