Net at Work Expands CRM Offering with Creatio Partnership
Partnership strengthens digital operations platform enabling SMBs to compete in the digital economy
NEW YORK — June 21, 2023 – Net at Work, North America's largest provider of next-generation, digital operations platform (DOP) technology solutions for the mid-market, has expanded its Customer Relationship Management (CRM) offering with the addition of Creatio to its solutions portfolio. Creatio is a global vendor of one platform to automate workflows and CRM with no-code and a maximum degree of freedom. Creatio joins Net at Work's extensive portfolio of CRM solutions for small-to-medium-sized businesses (SMBs) that include Salesforce, Sage, Microsoft Dynamics, and Click Dimensions.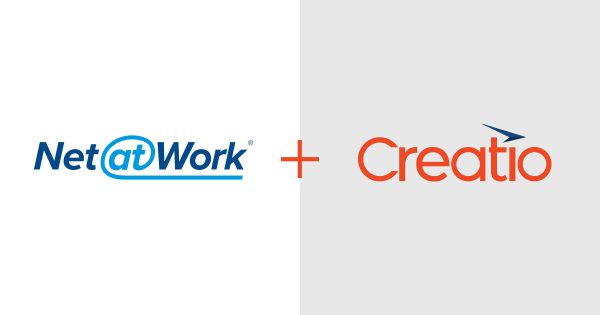 "We are excited to partner with Net at Work, a leading technology advisor in this space," said Alex Donchuk, Senior Vice President, Global Channels, Creatio. "The deep technical expertise, extensive resources, and vertical focus of Net at Work, coupled with our top-notch solutions will empower more organizations around the world to boost the efficiency of their commercial and operational teams without overwhelming their resources."
"Creatio is continually recognized as a technology leader in CRM by leading firms like Forrester Research and Gartner, and we are pleased to offer its disruptive technology as part of our DOP approach," said Mariam Shahamat, Practice Director, CRM, Net at Work. "The addition of Creatio as an integrated component to next-generation Enterprise Resource Planning (ERP) and other solutions means all aspects of an SMB can be well supported with the technology necessary to compete effectively in today's digital economy with the most compelling customer experience."
Creatio offerings include a no-code platform (Studio Creatio), CRM applications (marketing, sales, and service), industry workflows for 20 verticals, and marketplace add-ons. Creatio was recently named a Leader in the CRM Technology Value Matrix by Nucleus Research.
Net at Work and Creatio are hosting a free webinar entitled, "Scaling Up CRM From Disparate Workflows to a Single, No-Code Platform" on Tuesday, June 27 from 1 p.m. until 2 p.m. CDT. Click here to register for the event.
You can find more information about Net at Work's CRM solutions here.
About Creatio
Creatio is a global vendor of one platform to automate workflows and CRM with no-code and a maximum degree of freedom. Millions of workflows are launched on our platform daily in 100 countries by thousands of clients. Genuine care for our clients and partners is a defining part of Creatio's DNA. 
For more information, please visit www.creatio.com.
About Net at Work
Founded in 1996, Net at Work is one of North America's largest technology advisors to thousands of small and mid-sized businesses. The award-winning consultancy offers a rich portfolio of technology, expertise, and services to help organizations derive value from the transformative effects of technology. Through the integration of ERP, HRIS and/or CRM, Net at Work builds unique, industry-specific digital operations platforms (DOPs) that provide comprehensive application support for greater agility and operational efficiency and innovation to streamline the physical and digital experience. For more information, visit www.netatwork.com.