Net at Work Acquires Dresser & Associates, the Top Sage HRMS Solutions Provider
Mark Dresser named Net at Work's Practice Director of Employer Solutions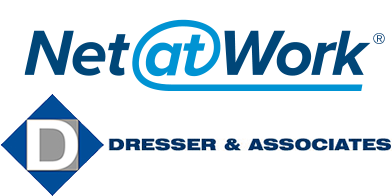 New York, NY — May 4, 2016 — Net at Work, a leading provider of integrated business technology solutions, today announced it has acquired Dresser & Associates (Dresser), a Sage North America business partner specializing in the sales, installation, and support of Sage HRMS. For three consecutive years, Dresser has been Sage's number one HRMS reseller, providing clients across North America with flexible, customized HR, payroll and talent management solutions. The acquisition supplements, strengthens and expands Net at Work's Sage HRMS and Employer Solutions Practice, giving middle market companies a one-stop service for all their HR and business technology needs.
Dresser clients will now have access to Net at Work's award-winning Sage team, providing unmatched support for their existing Sage HRMS and related systems, while delivering a complete range of technologies and services to help them grow their business, including: ERP/Accounting, customer relationship management (CRM), document management, web development, eCommerce, marketing automation and Cloud/Managed IT services.
"We're thrilled to welcome Mark and his formidable team into the Net at Work fold, as their addition takes our already strong employer solutions practice to the next level," said Alex Solomon, co-President and co-owner of Net at Work. "They've been the top Sage HRMS reseller for several reasons: their unmatched expertise in the HR technology space, their deep understanding of HR, payroll and talent management processes, and, not least, their customer-centric focus. We look forward to working with the Dresser team and with their clients, who will immediately reap the benefits of a full-service shop that understands their business and can support their growth every step of the way to effectively compete and grow."
Dresser & Associates has been named to the Sage Chairman's Club for five consecutive years and has been a top three Sage HRMS reseller for the past 15 years. The Dresser team will remain headquartered in Maine.
"This is a very exciting development, as Net at Work gives us the ability to provide our customers with a total integrated solution and comprehensive support that has made Net at Work the benchmark in the Sage world," said Mark Dresser, CEO and founder of Dresser & Associates, now Net at Work's Practice Director of Employer Solutions. "Beyond the synergies between us, we came to realize the similarities in our respective cultures and customer-centric, consultative approaches. Our customers should expect a smooth, seamless transition, as they will now have unfettered access to a complete, centrally managed IT solutions portfolio that gives them the support, infrastructure and tools needed to more effectively compete."